You are here:
Wiki
>
start
>
meets
>
120714Newcastle
---
Newcastle 2012
Date and Time
Date: Saturday 14th. July 2012
Time: 12noon until 6pm
Location: The Bridge Hotel, Castle Square, Newcastle upon Tyne, NE1 1RQ.
Price: £8.00 in advance, £10.00 on the door.
More information about the venue can be found online at
The venue is situated within easy walking distance of Newcastle Central station.
There will be a charge for this event. Payment of £8.00 may be made in advance (once the maintenance on the Shop area of the site is completed); alternatively, payment of £10.00 maybe made on the door.
=
Venue
The Bridge Hotel, Newcastle Upon Tyne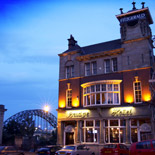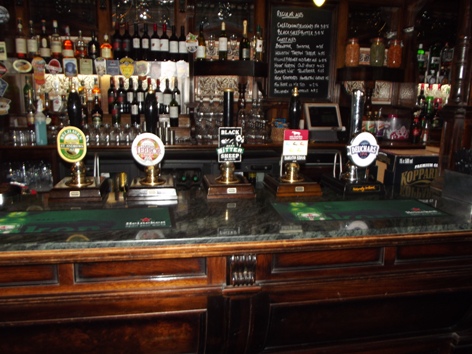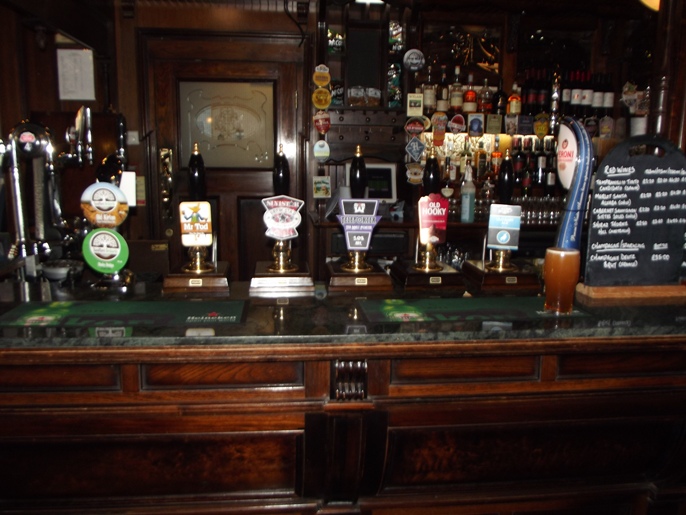 Thanks to Chrisrail for the photos of the bar!
During the course of the afternoon some 27 attended the meeting, and those who stayed over went out on the town for a curry on the Saturday evening.
Pre-meet plans
Friday night
Often, but not always, a meet-up will be arranged on the Friday night for drinks and perhaps a meal too, but as said this doesn't always happen. More details closer to the time, once location and venue has been decided upon.
Saturday night
Normally a curry followed by drinks in a pub, but again this greatly depends on the location and venue. Usually the restaurant chosen will be s short walking distance from the venue, local hotels/B&Bs and the railway station. The evening meal is usually from around 7pm to 9pm. If you are travelling home on the Saturday night, try to make travel arrangements after 9pm otherwise you may not have enough time for the curry.
Sunday
A visit with restricted numbers has been arranged to the Tyne & Wear Metro Control Room at South Gosforth Station for the morning of Sunday 15th. July. The sign-up sheet for the visit is here .
Apart from the internal control of the Metro system, we will also be able to see how the Metro Control interfaces with the conventional railway for the shared running between Pelaw and Sunderland.
How To Get There
Train
Newcastle Central station is served by a number of passenger train operators. Trains between London, East Coast Main Line stations and Scotland are operated by East Coast . Cross Country operate services between South West and South Central England, the Midlands and East Coast Main Line stations north of Doncaster and Scotland. Services between North West England, West Yorkshire and Newcastle are operated by Transpennine Express while local services and services to and from Carlisle are operated by Northern Rail .
As a general rule there are two trains per hour in each direction on the East Coast Main Line south of Newcastle and also two Cross Country trains per hour. The frequency is reduced North of Newcastle. The journey from London Kings Cross is about 3 hours so it is perfectly possible to make a day trip for the meet from the London area if people do not wish to make an overnight stay.
Train Tickets
Advance tickets are now available for the meet date. Go to this page for details.
Bus
Local bus services in Newcastle are operated by Stagecoach. The city centre is compact and does not cover a large area so most people will not need to use any of the local buses.
Coach
National Express coaches and Megabus provide coach services across the country; Newcastle Coach Station is a short distance further than Newcastle Central station but still within walking distance.
Car
Short term parking is available in meter bays in streets around the venue. Longer term parking can be found in car parks on the periphery of the City Centre. There are also a couple of multi-story car parks offering longer term parking within easy walking distance of the venue. Newcastle has a number of traffic management measures and one way streets so if you are not familiar with the area you would be strongly advised to give yourself plenty of time if you are travelling by car.
Facilities and Venue Details
Food
A buffet will be provided (typical buffet menus from the venue can be found here . Those with special dietary or allergy requirements are usually catered for, and the event sign-up form will include space to specify anything along these lines.
Drink
The venue is part of a small chain operated by Sir John FitzGerald and Co. who have been operating pubs in Newcastle for many years. "Fitzies" bars always have a range of real ales as well as the usual kegs, smooths, lagers, ciders and Guinness (and soft drinks). The Bridge normally has 7 or 8 hand-pulled ales available.
WiFi
To be confirmed.
=
Room Layout
The function room is often used for gigs and has a licensed capacity of 110 people. They have up to 9 hand-pulls available in the main bar downstairs. The room itself has a usable floor area of about 30ft x 24ft. There are 12 x 15a sockets in the room, all concentrated round the walls at the end opposite to the bar which is the end that bands use when there is a gig taking place.
The Meet
Times
Usually, for meets that run from 12noon to 6pm, those with laptops for use by the SimSig public are asked to arrive by 11:30 and register. Those without laptops are normally asked to wait until noon when it is hoped everything will be ready.
=
Entrance Fee
The entrance fee is £8.00 for those paying in advance or £10.00 to pay on the day. This covers the buffet and administration fees. Payment is usually required in advance for meets as we order food for a specific number of people. When more people turn up on the day without paying in advance, it reduces the food selection for those who were considerate enough to pay in advance. We realise that some people may not be able to confirm until closer to the yet to be decided date but hope you understand the situation.
The option to pay using the online Shop is currently undergoing maintenance; it will be enabled in time for payment to be made in advance of the meet. For those who do not like using the online Shop or PayPal (or both), it is likely that you will be able to make payment by cheque for an amount per person. However, the price will be slightly higher than those paying via the online shop or PayPal as this reflects the increased cost for processing of the cheque compared an online payment. The address to send the cheque to will be released closer to the time
Those arriving after a certain (yet to be decided) time, it is possible that there will be no entrance fee, but this again depends on many factors which are yet to be decided. If you have not paid in advance then entry will not be permitted until that time. It is unfortunate that the good natured majority has often been spoilt by a small few who try to eat without paying, hence our stance on this subject.
What's Included
Buffet lunch, shared access to a set of multiplayer simulations, tutorials on how to play SimSig if needed.
Where To Stay
A number of the budget chains have hotels in or just outside the City Centre and within walking distance of the venue. These include one Travelodge , three Premier Inns (details can be found by searching this site ) and one Holiday Inn Express (search here ). There are also a number of other hotels in the City Centre and details will be posted in due course if any advantageous rates can be obtained. All of these hotels are within easy walking distance of the Bigg Market (for a curry) and Chinatown as well as the venue.
Please be aware that Newcastle has a reputation as a party place and attracts a number of groups wishing to celebrate. This celebration sometimes spills over to the budget hotels and they can be noisy at night time. There are also hotels and guest houses in Jesmond (which is a short bus ride or a couple of stops on the Metro) if people want to try and avoid these celebrations. In addition, there is a Metro Inn a bus ride way on the road to the Airport which is reported to be clean but basic (shared bathroom/toilet facilities rather than en suite for example) but does have free WiFi at around half the price of the budget chains in the City Centre.
Simulations Used
The meet represented a Developer debut for TomOF whose beta version of his Carlisle sim received its first public airing. Three separate sessions were set up, 2 using the 1979-1980 TT written by Pascal Nadin (58050) and one with the default 2008 TT. Each session involved 1 host and 3 panels in operation. The midweek version of Pascal's TT was found to be particularly challenging and should supply hours of frustration and aggravation in the future.
Operations commenced at 1200 and ran until about 1730, when things were shut down so that the group photograph could be taken. We were out of the venue by 1800 to allow the staff to set up the room for an evening function.
Meet photographs
Part of the work area with a few hard at it - Tom o'F, Carlisle developer, standing second from left. Thanks to AndyB for the photo.
Group photograph
Chrisrail is missing from the photograph, not because he was at the bar but because someone had to work the camera. Thanks to Chris for the photo.
Sunday Morning Visit
10 of those who stayed over plus Postal visited the Tyne & Wear Metro Control Room on the Sunday morning. It was an interesting and informative visit which has been written up and illustrated here on the SimSig Forum.
E&OE
---
Last edited by postal on 19/11/2018 at 10:07