You are here:
Wiki
>
start
>
meets
>
160312Birmingham
---
Birmingham 2016
Basic Details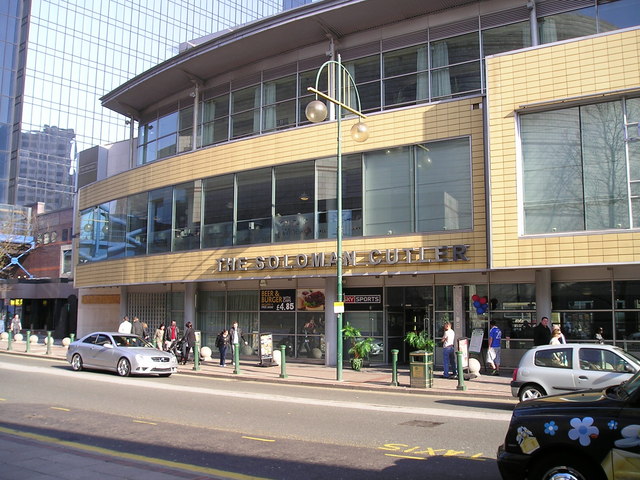 © Copyright canalandriversidepubs co uk and licensed for reuse under Creative Commons Licence
Date: Saturday 12th. March 2016
Time: 12noon to 6pm
Location: Soloman Cutler, Regency Wharf, Broad Street, Birmingham, B1 2DS.
Price: TBC
How To Get There
The venue is a short walk from all three main Birmingham Stations (New Street, Moor Street and Snow Hill). A map of the venue and surrounding areas can be viewed here on Google Maps.
To walk to the venue from New Street Station, leave by the exits to Stephenson Street and turn left. Follow straight ahead, crossing Hill Street and going under the Queensway Flyover. Once under the flyover turn right and walk uphill past the Crowne Plaza Hotel and Arena Centre office building on your left. Turn left onto Broad Street and the Soloman Cutler (also confusingly branded as Lloyds Bar) is on your left opposite the Symphony Hall. It is about 10 minutes walk from New Street.
There is a major re-development in the Paradise Circus (old central library) area at the end of Broad Street with some roads and walkways closed.
Train
New Street is served from London Euston by Virgin Trains and London Midland . New Street is also the hub of the CrossCountry network with trains to and from various parts of the country. In addition New Street is the centre a local network covering the West and East Midlands as well as longer inter-urban journeys.
Snow Hill and Moor Street are served by direct services from London Marylebone operated by Chiltern Railways as well as a network of local services within the West Midlands.
=
Bus RainbowNines:
It's almost certainly quicker to walk, but for those with limited mobility, the number 9 bus to Stourbridge departs from Colmore Row from just outside Snow Hill station. Due to the Paradise Circus redevelopment the nearest outbound stop is the National Indoor Arena (NIA), about 7 minutes walk. The buses back into the City Centre still go down Broad Street. For a shorter walk, alight at Birmingham Moor Street and walk through the Bull Ring and catch the 22,23,24 or 29 from Stop NS6 in Smallbrook Queensway (Outside Debenhams)
From New Street you can catch the 22,23,24 or 29 from Stop NS6 in Smallbrook Queensway (Outside Debenhams, Bull Ring shopping centre. These stop either side of the Spoons in question.
Coach
National Express coaches operate services between Birmingham and many part of the country,
Car
There is no parking at the pub itself however there is street parking in the adjacent side streets and long-stay car parks nearby at the MailBox and Town Hall - SatNav users are advised to use the postcode B1 2DS. If you're staying overnight then your hotel or B&B might have parking.
Facilities and Venue Details
Venue
The venue is a Wetherspoons house and has a large downstairs bar. There is also a smaller upstairs bar. The meet will take place in a reserved area using the mezzanine floor of the upstairs bar.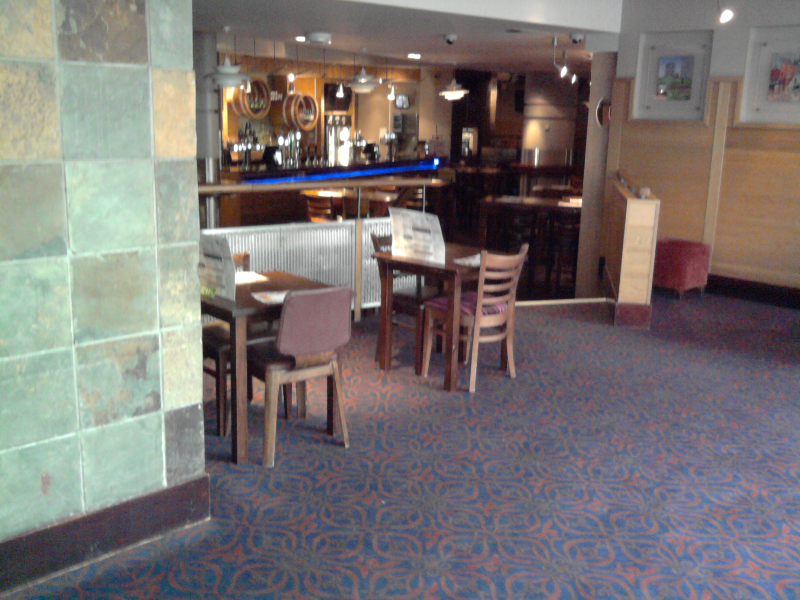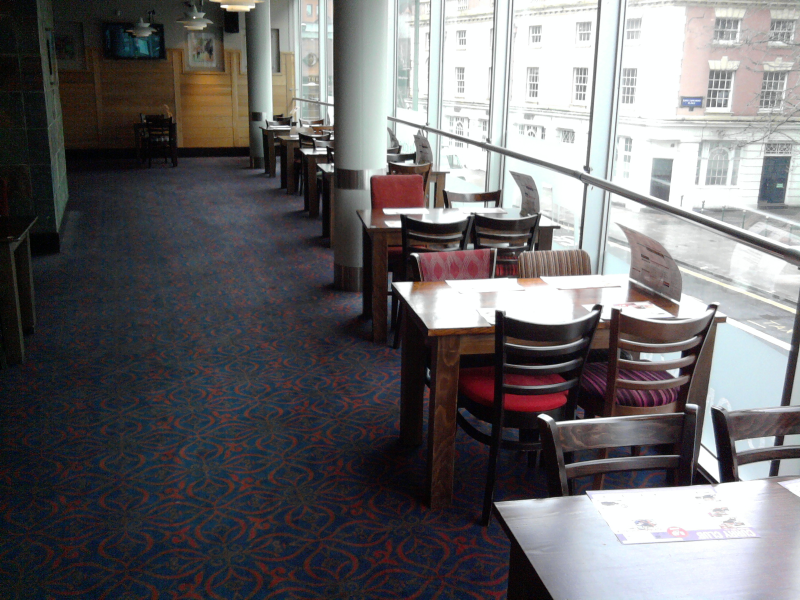 There is also ample seating immediately outside the reserved area for those who wish to socialise rather than running a sim.
Food
No buffet will be provided. However, the usual Wetherspoons menu is available and food can be ordered from the upstairs bar.
Drink
Prices TBC. As is usual with Wetherspoons houses, the pub has a good range of cask beers as well as the usual lagers, fizzy ciders and "smooth" beers.
WiFi
Free WiFi available
Room Layout
TBC
The Meet
Times
The venue is open during usual Wetherspoon hours. Those with laptops for use by the SimSig public, please arrive sometime between 11:30 and 12:00 to set up. Those without laptops are welcome to come into the bar as soon as they wish, but please wait before moving into the Meet area so that things can be set up and ready.
Entrance Fee
No entrance fee will be charged for this meet. However, it would be helpful if anyone wishing to attend could sign up using this form so that we can keep track of how many are coming and whether we have enough laptops and other kit for multiplay.
What's Included
Reserved area for meet, shared access to multiplayer simulations.
Where To Stay
As a major city with international trade, Birmingham offers a wide range of accommodation from B&B to 5*. Both Travelodge and Premier Inn have several hotels in and around the area. Wetherspoons also offer accommodation at their other Birmingham City Centre site, the Briar Rose .
Please offer other recommendations if you know of further suitable accommodation.
Friday night
Please offer recommendations. Previous meets have included for example a meal at a Mexican restaurant followed by drinks at one or more local pubs. That is not included in the entrance fee for the meet!
Saturday night
The meet is often followed by dinner in an Indian restaurant which usually starts fairly soon after the close of the meet at 18:00. Suggestions for a suitable venue would be welcomed.
Sunday
There is no visit arranged to date.
Simulations In Use
The meet started with New Street and Saltley chained. Aston, Coventry and Wolverhammpton were added at various stages.
JamesN and friends had created a set of saved simulations at 6:00am sim time so that we could get straight into the morning peak.
What Actually Happened
The meet itself was somewhat hampered by the rail problems at Sheffield which caused some of those attending to be delayed until 15:00 or later. As a result we were a bit short of hardware in the early stages. We started with a New Street/Saltley chain (lots of work for those on Saltley as there were only 2 machines covering 5 panels). By the end of the meet we had enough kit and had Aston, Coventry and Wolverhampton in the chain as well.
JamesN and his colleagues had worked hard to get a set of sims saved at 06:00 so that we could get straight into the morning peak. We started rolling at about 12:30 real time and ran through until 17:30 which was a good workout.
Tony (tjfrancis) took the following photos at the meet. Anyone who wishes to edit this page to put some names to faces is welcome to do so.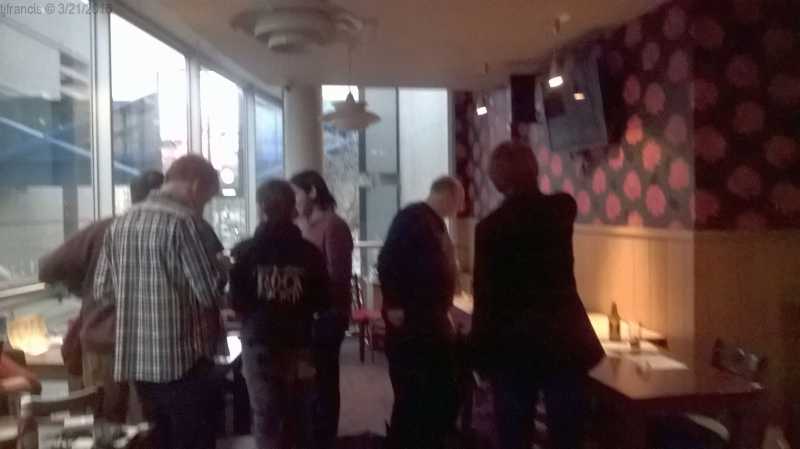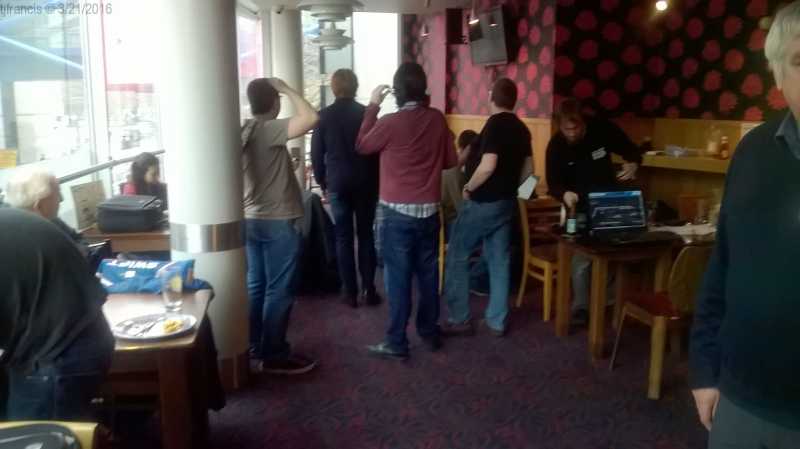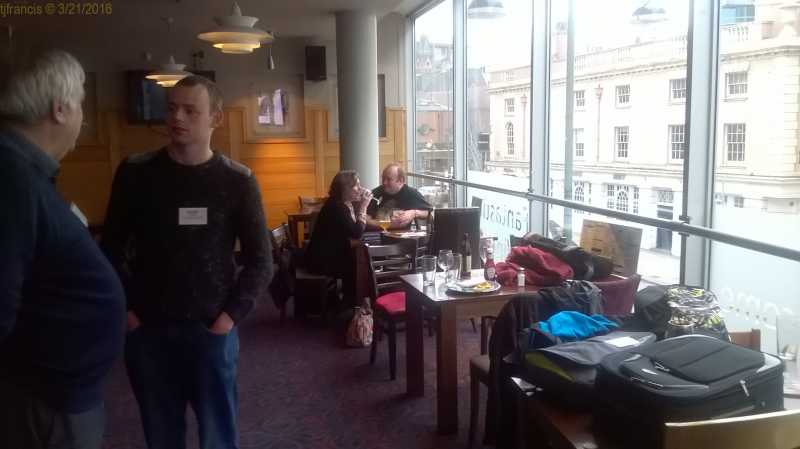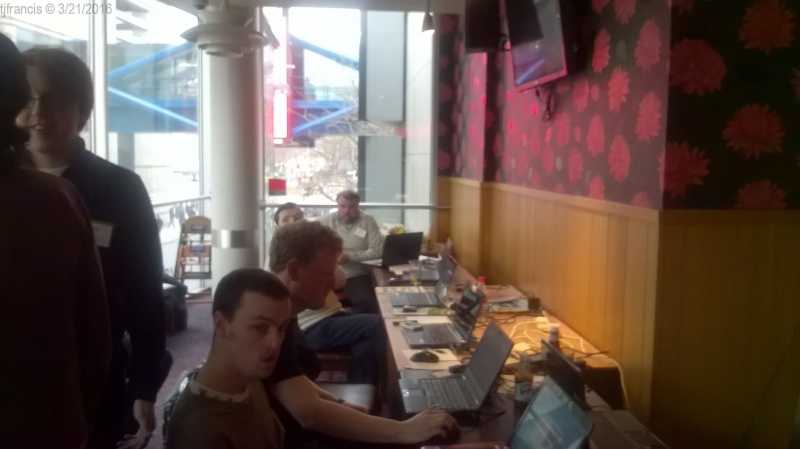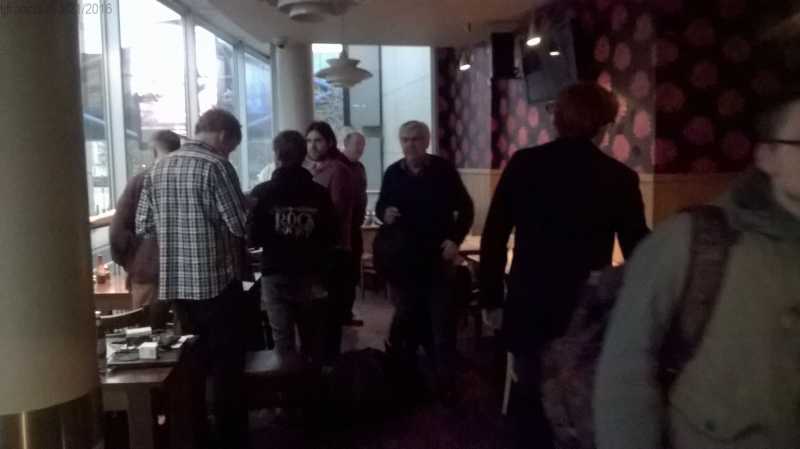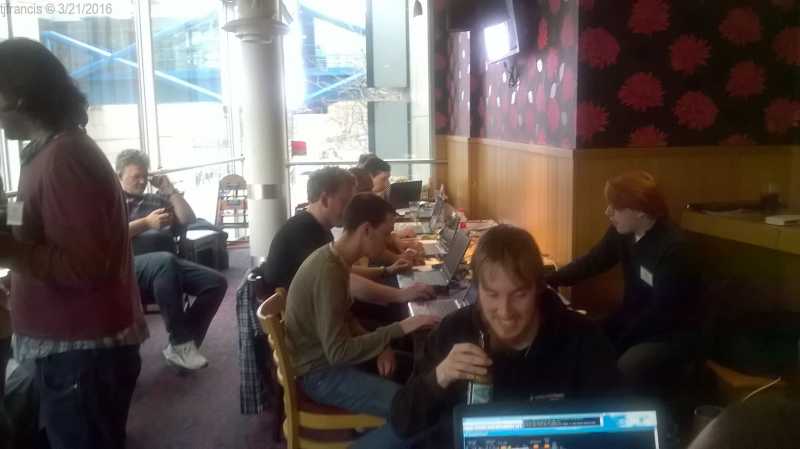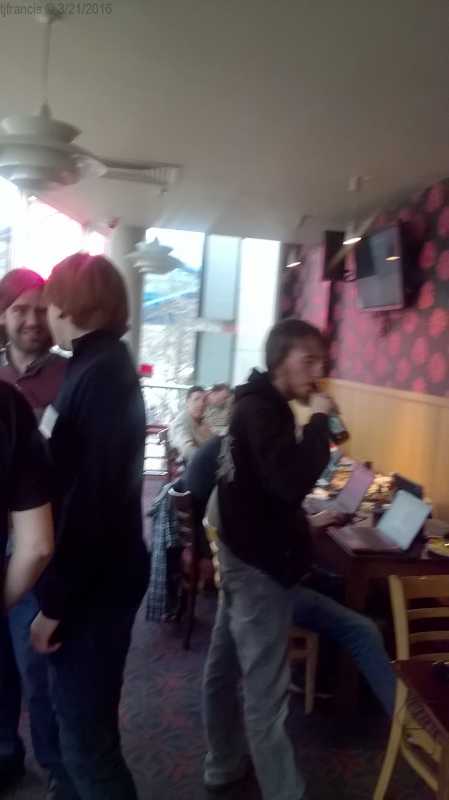 We had 27 who had signed up to attend. There were a handful of no-shows but also a handful who had not signed up so we had about 25 either simming or socialising. This is a few less than the estimate of the attendance that I gave to the venue; hopefully that will not be a block if we try and go there in the future.
Thanks to andy0607 for providing the network and to JamesN and friends for putting together the saved games and running the simming side of the day. Finally thanks to everyone who attended.
---
Last edited by postal on 19/11/2018 at 15:13