You are here:
Wiki
>
start
>
simulations
>
motherwell
>
workstation3
---

Page is locked
Motherwell
Workstation 3
Mossend Yard
2000: access to the reception lines 3 & 4 require slots to be granted by the Yard. The slot is not required for MY319 (coal siding) to 4 and MY310 & MY319 can have the opposite routes simultaneously set.
All eras: Trains entering the Down yard from Down Reception 1 & 2 are controlled by signals MY311 and MY309: these are fixed Reds with a PL controlled by Mossend Yard Control. For Sim purposes the user must left click on the relevant signal in lieu of the controller. After a random period of time (up to 10 mins) the signal will clear. After the train has entered the controller may or may not remember to restore the signal switch. If they forget then you can phone and request the reset.
A similar arrangement applies to Signal M307 except there you have to set the route in before awaiting the controller to clear the signal. If only the front portion of a train on the Down Goods is proceeding past M307 into the Down yard, it will be necessary to phone the controller once the front portion has proceeded, to request that the signal switch is restored and allow a second route to be set.
In 1980 and 1990 modes, the Up and Down Reception lines can only handle arrivals and departures in those directions without additional shunt moves. From 2000, additional crossovers and signalling allow direct arrivals and departures to and from both sides of the complex.
Unusual Signalling Controls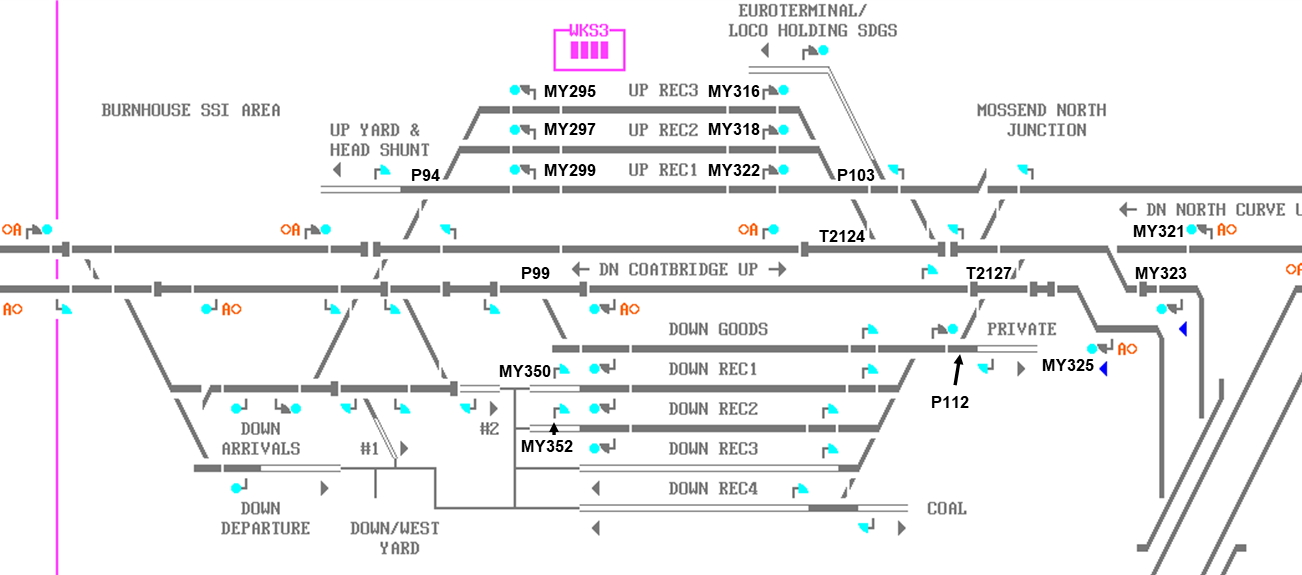 Signals, Points and Track Circuits referenced below are labelled in this image. For a full signal number plan, see the Reference Section .
Track Circuit 2127 (on the Down Coatbridge) has a Phantom Overlap for MY325/MY323/MY321 and Track Circuit 2124 (on the Up Coatbridge) has a POL for MY315. Note that if you set a forward route then cancel it the POL does not reset – this is a Sim limitation but is primarily cosmetic.
Routes from signals MY350/MY352 can't be called if points 112 (entry to the Down Goods from the Down Coatbridge) are Reverse; Points 99 (Exit from the Down Goods) can't reverse unless Points 112 are Normal and Down Goods is occupied for at least 60 seconds or the Down Goods is unoccupied.
Routes from MY299/MY297/MY295 can't be called if points 103 (crossover immediately ahead of MY324) are reverse and routes from MY316/MY318/MY322 to MY340/MY358 can't be set of points 94 (points ahead of MB292) are Reverse. There are no restrictions on the points reversing after a route has been set.
Mossend South Jn
Signalling an up and down train between Mossend East and South Junctions simultaneously is not allowed due to limited clearances. Doing so will incur 5 penalty points.
A flashing yellow sequence is provided for M359 to M335.
Mossend West Junction
There is limited warning (1-2 minutes) of trains approaching from Uddingston.
In 1980 and 1990 mode, Mossend West Jn GF has two releases. Lever 1 is used to release the crossover if the main junction points are Reverse (i.e. towards Mossend South Jn), Lever 2 is used to release the crossover if the main junction points are normal (i.e. set towards Mossend East Junction). In 2000 and 2015 era the points are controlled from the box.
Mossend East Junction
Due to the steep gradient from the Coatbridge lines up to Mossend East Jn, freight trains from Mossend South and North junctions should not be brought to a stand at Mossend East Junction.
Two sets of train describers are provided on the approach, to distinguish trains approaching from Shotts or Wishaw. Note that trains from Shotts are displayed for considerably longer than those from Wishaw. Liase with the Workstation 5 signaller as to which order approaching trains will be sent towards Mossend East Jn in.
---
Last edited by Steamer on 04/04/2021 at 18:25