You are here:
Wiki
>
start
>
simulations
>
LiverpoolStreet
---

Page is locked
Liverpool Street
Official Files
| Title | Version | Released |
| --- | --- | --- |
| Simulation (Donationware) | 3.6 | 31/12/2017 |
| 15/04/2010 WTT (Midnight and 0435 Start included) | 2.6 | 20/01/2017 |
| 08/04/2015 WTT (Midnight, 0400 & 1400 starts included) | 5.0 | 27/11/2020 |
| 05/10/2016 WTT (Midnight and 0400 starts included) | 1.0.1 | 27/11/2020 |
Additional user-written timetables are available to download here .
Introduction
Welcome to Liverpool Street! This is a highly authentic reproduction of the real Liverpool Street IECC right down to screens, signals, points, tracks, and timetables. Liverpool Street is probably the best known of all the IECCs, perhaps because it was the first and was well publicised. Such information has helped me to get the simulation as real as possible, along with much help from friends in the business.
About the real IECC
As mentioned above, Liverpool Street was the first IECC to be commissioned on British Rail, over Easter 1987. At the time it was one of the most advanced control centres in the world with practically everything done electronically rather than using relays.
There are actually four IECCs within Liverpool Street IECC. Yes, that means that the term 'IECC' actually refers to two things: the set of equipment that makes up an IECC system; and the building (control centre) which houses the equipment. One IECC was not powerful enough to control the entire line, due to the complexities of it all.
What you will be seeing is a large chunk of IECC 'A', which covers the Liverpool Street to Bethnal Green area, and also (not in this simulation) Hackney Downs to Chingford. There is enough concentrated activity in that area to require two signallers during the rush hours! As such, there are two workstations which actually allow both signallers access to the same area. There is an agreement between the signallers as to who will actually control what. The split tends to be platforms 1-10 at Liverpool Street, the Suburban Line, and the Fast Line from Bethnal Green, with the other signaller controlling the Main Line, the Electric Line, and platforms 11-18.
The other three IECCs, 'B', 'C', and 'D', control the rest of the line to Southend and towards Ipswich, along with the branch lines, and the West Anglia lines to Stansted and Cambridge (exclusive). Each has two signallers.
Layout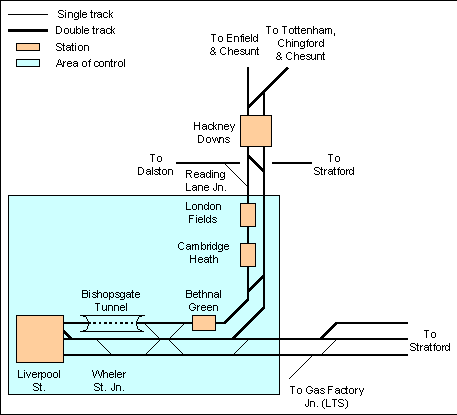 Start-Up Options
Scenarios
Easy Mode
No train delays or equipment failures
Normal mode
A typical day; some train delays and equipment failures.
Eras
Two eras are available; 'Before 2013' and '2013 onwards'. The only difference between the two is the name of some lines; track layout is unchanged. The correct era must be selected for ARS to route trains correctly.
Other Options
ARS on: Tick to enable ARS in the simulation.
Operating Notes
ARS
Full ARS is provided, and in general could work the simulation independently. However, should trains be routed towards you on the wrong line, or be booked to join or share a platform at Liverpool Street, you will need to step in and set those routes manually.
Fringes
Liverpool Street has two fringes, one with the Hackney Downs signaller and one with the Stratford signaller, both co-located in the same building.
Hackney Downs Fringe
The Hackney Downs signaller can send some trains down either the Suburban or Fast lines, as long as they haven't just come off the Reading Lane Junction curve or if they stop at Cambridge Heath or London Fields. Note that trains reversing at London Fields between Hackney Downs and the North London Line will appear and then disappear at London Fields. They may also appear pink (non-ARS).
You can request the Hackney Downs signaller to send all trains down one line if necessary by using the special train description of 'BLOK' in the first berth under your control on the appropriate line. The signaller will see that appear on his panel and send future trains on the other line if he can. The berths are 0122 on the Fast line and 0120 on the Slow line, at Cambridge Heath.
Stratford Fringe
Because of the large number of crossovers between Electric and Main lines, you will get a number of trains coming in off their timetabled path if the Stratford signaller decided to re-route due to congestion or other reasons. You will need to put them back on the planned path for ARS to start routing automatically. Look at each train's timetable though, since the train might be timetabled to cross at Bethnal Green anyway, and so changing lines is not needed. Not only that, but you will "wiggle" the train, the crossovers restrict the speed of the train (approach controlled) and you may delay other trains.
As with Hackney Downs, you can request the Bow signaller to send all trains on a different line. Interpose BLOK into berth 0220 on the Main line and 0222 on the Electric line.
Requests by Fringe Signallers
Either fringe signaller may ask you to send trains on the other line rather than their booked line. If he does this, the word 'BLOK' will appear on the outgoing line. You should then avoid routing on that line, and you will lose score if you do. This will start to happen a few minutes after getting the message to allow any trains already on that line to pass through which are unavoidable.
Liverpool Street
Liverpool Street has 18 platforms, 1-14 capable of holding 12-car trains, 15-18 capable of holding 8-car trains. Platform 15 can hold a 12-car train but this restricts parallel movements into and out of platforms 16 to 18.
Permissive working
Call-on routes are allowed into the platforms at Liverpool Street. This is selected by the interlocking at routesetting time when the platform track is occupied. Therefore, if a train is on its way to the platform, but hasn't yet entered it, do not overset a call-on route until the train is actually in the platform.
Note that the entrance signal to the route will only clear to a calling-on aspect when the following conditions are true:
That the platform track is occupied
That at least one track circuit at the country end of the platform is not occupied
That the train to be called-on has been timed to, or nearly to, a stand at the entrance signal
That the measuring track circuit(s) (where used) is/are occupied and the track circuit(s) in rear are clear.
This gives you some protection against sending a too-long train into an occupied platform but is not foolproof. It is up to you to make sure that you don't put trains into platforms that would foul the station throat. Look at the Trains List to see how long each train is.
Point locking
Point locking is effective on certain points which are located immediately beyond a signal. This means that the points cannot be moved for a time period after the berth track circuit to the signal has been occupied. The overlap has been timed to release at this time also, so when the overlap releases, so does the point locking and you will be able to (subject to other conditions, of course) move the points again. This protection is to avoid the possibility of an overrunning train rolling into the points which are being moved from normal to reverse or vice versa, thus derailing the train and damaging the pointwork.
Signal 57
Note that Signal 57 applies to trains heading to the Down Main from platforms 5 to 10 and platforms 11-14.
Delayed yellows
Some of the automatic signals have delayed yellow facilities. This is where the overlap beyond the signal in front is not completely clear but this signal clears to a single yellow once an approaching train has been timed to come to, or nearly to, a stop at this signal. If the overlap clears before a train arrives, then the signal will clear as per normal.
Controlled Signals and Warner Routes
Some of the controlled signals work in the same way, but if a route was set, where the interlocking selected a warner route, then the route will remain a warner route unless you either: overset the route to select a main route when the full overlap is available and clear; or set a route from the exit signal of the warner route, when the warner route will automatically step up to a main route, as long as the full overlap is clear.
Multiplayer & Chaining
The simulation chains at the following locations:
| Simulation | Location |
| --- | --- |
| West Anglia | Hackney Downs/Reading Lane Jn |
Acknowledgments
Simulation by: Geoff Mayo
15/04/2010 WTT by: (Unknown)
05/10/2016 WTT by: John Mills ('Meld')
Reference Section
Signal Number Plan
Signal Box Prefix Codes
All signals are controlled by Liverpool Street IECC, and plated 'L' on the ground.
Platform, Loop & Siding Lengths
Platform Lengths
| Location | Platform | Length (m) |
| --- | --- | --- |
| Bethnal Green | All | 187 |
| Cambridge Heath | Down | 189 |
| | Up | 185 |
| Liverpool Street | 1 | 242 |
| | 2 | 252 |
| | 3 | 252 |
| | 4 | 252 |
| | 5 | 252 |
| | 6 | 252 |
| | 7 | 252 |
| | 8 | 252 |
| | 9 | 288 |
| | 10 | 248 |
| | 11 | 261 |
| | 12 | 246 |
| | 13 | 256 |
| | 14 | 246 |
| | 15 | 246 (full) |
| | | 231 (to L45) |
| | 16 | 162 |
| | 17 | 162 |
| | 18 | 162 |
| London Fields | Down | 197 |
| | Up | 196 |
Line Speeds
Without going into great detail, the linespeeds are approximately as follows:
15mph in Liverpool Street station throat
30-40-50-60mph in stages to Bethnal Green
25mph crossovers in Bethnal Green area
40mph crossovers east of Bethnal Green
50mph freight / 70mph passenger towards Bow Junction
30mph SL and ML->FL at Bethnal Green
30mph all directions over Bethnal Green North Junction
40mph all Hackney Downs lines
There are no timetable locations provided for reversals behind the shunt signals in the station throat.
Timetabling for Liverpool Street is pretty straightforward. Most up trains will have an entry point of Up Electric, Up Main, Up Fast, Up Suburban, or Reading Lane Junction, and will have key locations of Bethnal Green and Liverpool Street. Cambridge Heath and London Fields are optional locations which only need to be specified if the train actually stops there.
There are four line and path codes: SL (Suburban Line), FL (Fast Line), ML (Main Line), and EL (Electric Line). Trains entering at Reading Lane Junction or Up Suburban will have a path code of SL inserted automatically at Bethnal Green. Up Fast trains must have it entered manually, since it can use either SL or ML at Bethnal Green. Similarly Up Main trains must have either ML or EL specified, but Up Electric trains will have EL inserted automatically.
The line code at Bethnal Green is carried forward from the path code, so you do not need to specify it unless the train changes line after Bethnal Green.
Similarly the path code at Liverpool Street is derived from the line code at Bethnal Green. The only case where this can be different is when the line at Bethnal Green is EL and the path at Liverpool Street is ML, where the train will cross from EL to ML at Wheler Street Junction.
A platform must be specified at Liverpool Street for arriving and departing trains.
Departing trains from Liverpool Street must have a line code specified, even if it doesn't have a choice.
As for Up trains at Bethnal Green, Down trains derive their path code at Bethnal Green from the line code at Liverpool Street, no exceptions.
Trains on the SL or EL can have a different line code specified, i.e. FL or ML respectively. Otherwise, the line code is carried forward from the path code as before.
Headcode Letters
The following destination codes are used:
A - Manningtree and Harwich Town
B - LTS trains between Liverpool Street and Shoeburyness (via Laindon) (restricted to individual reporting numbers 80 to 99 inclusive); Stansted Airport branch (restricted to individual reporting numbers 00 to 79 inclusive)
C - Stratford and Gidea Park; Cambridge to Ely and Norwich
D - Cheshunt and Hertford East (via Southbury)
E - Eastern England
F - Chelmsford (including Braintree branch) and Colchester / Colchester Town
H - Thornton Field CMD (pre 2008); Cambridge, Ely and Kings Lynn
L - East Anglia
J - Wickford and Southminster
K - Billericay and Southend Victoria
M - Midlands and North West; ECS trains running to Orient Way CS
N - Colchester Town and Clacton / Walton-on-the-Naze
O - Southern England; Cheshunt and Hertford East (via Lea Valley)
P - Stowmarket and Norwich / Great Yarmouth; Cambridge
R - LTS trains between Liverpool Street and Shoeburyness (via Rainham)
S - Scotland; Roydon and Bishop's Stortford (via Lea Valley)
T - Colchester / Marks Tey and Sudbury; Clapton Junction and Chingford
U - Hackney Downs and Enfield Town
V - West of England and South Wales; Romford and Upminster; ECS trains running to Ilford EMUD
W - Harold Wood and Shenfield
Y - Ipswich and Felixstowe; Roydon and Bishop's Stortford (via Southbury)
Note that trains running to Liverpool Street show the letter appropriate to their point of origin.
TIPLOC Codes
Splash Screens
| | |
| --- | --- |
| Splash01 | Equipment Room at Liverpool Street IECC |
External Resources
SimSig is not responsible for the content of external links. Links may change over time.
Version History
---
Last edited by Steamer on 27/11/2020 at 21:17