You are here:
Wiki
>
start
>
simulations
>
leedsew
---

Page is locked
Leeds East/West
Official Files
| Title | Version | Released |
| --- | --- | --- |
| Simulation (Payware) | 5.0 | 16/04/2021 |
| 15/10/2009 WTT (Midnight and 0445 Start included) | 5.1 | 26/04/2021 |
Additional user-written timetables are available to download here .
Introduction
Leeds is controlled from York IECC located to the west of the station at York itself. The building houses the four Leeds workstations as well as the two York workstations, plus network control. Several interlockings controlled by Leeds/York were recontrolled relay interlockings rather than new SSIs, reducing cost but increasing complexity as there were numerous different interlocking types and vintages. Leeds station itself was, however, completely resignalled.
SimSig has tried to keep to the spirit of the IECC displays while adapting for a scrollable layout. Thus, the area may appear more 'compressed' than other simulations.
Leeds features a wide variety of services from East Coast services from London King's Cross, to Trans Pennine services to a multitude of locations (generally east <-> west), as well as plenty of freight services to and from all over the country.
Neville Hill Train Maintenance Depot is a large facility used for maintenance and stabling. A large portion of the facility is wired for 25kV overhead AC power.
Leeds area map
Start-Up Options
Scenarios
Beginner
No delays or equipment failures. Additional features are provided that are not present in real life, to aid beginner or solo players:
Most depots/sidings interpose automatically on train entry
TDs step to opposite ends of Leeds station.
Routes release if the rear of the train has passed the mid-platform signal at Leeds.
Comprehensive approach locking is provided on most signals.
Standard
Minor delays to trains, and a chance of equipment failures. Manual interposing at most siding/depot entrances. TD stepping and signalling as per real life. All signals time out (non-comprehensive approach locking), per real life. Recommended for experienced players.
Leaf Fall
Poor railhead conditions mean that trains are slower accelerating and braking earlier, causing significant delays. A higher chance of equipment failures.
Platform 17 blocked
A typical day but maintenance work on platform 17 means anything booked there will need to use an alternative platform. Delays and failures as per 'Standard' mode.
Up/Down Leeds blocked
A typical day but emergency track work near to Ulleskelf has closed the Up and Down Leeds lines between Church Fenton (exclusive) and Colton Junction. All traffic must use the Up/Down Normanton lines. Delays and failures as per 'Standard' mode.
Eras
2000-2020
The area as originally commissioned on transfer to York IECC.
2021
Platform 0, on the other side of platform 1, has opened at Leeds. The crossovers between REC1 and REC2 at Hunslet GF have been removed, and Manston GF is out of use (and has been for a number of years).
Other Options
ARS Operation
| | |
| --- | --- |
| Non-ARS | The simulation is fully manual. Recommended for fun multiplayer! |
| IECC ARS | Only the routes in the real life IECC are set automatically. Generally those excluded are calling-on routes, routes into depots without slots, and routes into or out of sidings. Recommended for realism. |
| Extra ARS | Additional routes beyond the real life IECC are set automatically. Note that this does not include every route. Recommended for the solo beginner. |
Features
Automatic Routesetting System (ARS)
ARS is provided on this simulation. However, due to the complexity of short and long trains, reversals, and other issues at Leeds, don't expect to leave ARS in charge while you go for your dinner. ARS is, and always will be, an assistant and not a replacement for the signaller - and that most definitely includes real life.
If an ARS-enabled option has been selected, it can be switched from standard IECC to extra ARS by left clicking on the roundel in the options area of the screen, below and to the left of Leeds station. It can be switched back to IECC standard by right clicking the same roundel.
More ARS specific issues are detailed in the individual workstation sections.
Electrification
As per the real IECC, electrification limits are not shown on the workstation. Standard 25kV overhead electrification is provided on the following routes:
Wakefield Westgate- Leeds
Shipley/Apperley Jn- Leeds
All platforms, through lines and Lines A-F in the Leeds station area, including the Up and Down Huddersfield as far as Copley Hill East Jn, and the Up & Down Harrogate as far as Armley Jn.
Copley Hill West Jn- Copley Hill East Jn
Leeds- Neville Hill West Jn
Neville Hill TMD.
Panel Notes
Workstation Notes
In real life this area is controlled by two signallers on the Leeds East workstation and the Leeds West workstation. The simulation has split each of these two areas down into two each, East 1, East 2, West 1, and West 2. This gives more multiplayability when not running with ARS. For orientation, West is to the left, while East is to the right.
East 1
This area covers Leeds station itself and the immediate approaches. It is an intensive area during the day and any platform alterations have to be considered carefully with respect to the train's following locations as not every platform gives access to all destinations.
Signalling Notes
Nine bay platforms on the west end, two bays on the east end, six through platforms, and one through road provide a lot of platform space - and it's well used during weekday timetables. Each of the through platforms is split into two sections, allowing non-associated trains to share a platform without the use of calling-on routes. However, two trains cannot proceed towards each other in the same platform at the same time: the opposing movement must come to a stand before the next movement can take place. The interlocking predicts such movement by timing the occupancy of track circuits. Once a platform has been occupied for a sufficient time, the associated direction arrow will drop out and an opposing route can be set. The timers range from 15 to 27 seconds depending on the length of the platform.
Each of the through platforms also has a warner route from outside the station, selected automatically by the interlocking. This allows a full proceed aspect (albeit delayed) to be shown to a driver of an inbound service.
Between platform 11 and 12 lies a through road. Many trains use this to bypass other trains in platforms 11 and 12. Be careful: it is quite possible to have trains facing each other over the middle crossovers with nowhere to go!
When signalling a train to the far end of a platform - especially long trains - the train must not come to a stand at the mid-platform signal, otherwise it will deem itself to have "arrived", potentially blocking the station throat. To mitigate this, routes can be set in reverse, so setting the route from the mid-platform signal before setting the route to the mid-platform signal. ARS overcomes this by refraining from setting the first route until the second route is also free to set. The near end of each through road is not considered as Leeds station for the purposes of stopping, so trains can be halted at L3667 or L3684 without them "arriving" at Leeds.
Trains are timetabled to use a particular platform section. These are not shown on the screen as it is assumed the signaller is familiar with them. Each of the bay platforms has an A and a B section with some also having a C section. In terms of signalling the bays, the signaller need not know or do anything special with the suffix: for example, a train timetabled into platform 1A will have the same route set as a train timetabled in platform 1C. Platforms 8, 9, 11, and 12 are split into A, B, C, and D sections with the A/B end left of the mid-platform signals, and the C/D end to the right of the mid-platform signals. Platforms 15 and 16 are split into A and B only, with A left of the mid-platform signals, and B right of the mid-platform signals.
The banner repeater on line F approaching Leeds West Junction is unusual in that it repeats either of two signals (L3636 or L3634). The "off" indication relates to whichever signal the pointwork lies toward - and "on" is displayed if the trailing points immediately after the banner are not in the normal position.
Each platform half has TRTS indicators at either end. The through road does not have any TRTS indicators.
Long trains reversing in the station and occupying both ends of a platform need special consideration. Firstly, the mid-platform signal will not have had its train operated route release (TORR) activated as the rear of the train won't have passed the signal. The route will need to be cancelled manually. Secondly, if ARS is switched on, it will interpose the next working in the berth adjacent to the end it arrived at. The train description will need to be re-interposed at the departure signal - i.e. the other end of the platform.
Shorter trains may also need the above treatment to a certain extent. Sometimes they are timetabled for the full length of the platform but are just about short enough to only occupy one platform end. However, they aren't that short that they operate the TORR so, again, the route needs to be cancelled manually.
ARS
Virtually any timetable since the resignalling will have multiple trains in bay platforms. Unless the timetable explicitly states a platform share, ARS will not route a second train on top of an earlier train. This commonly happens in platforms 1 to 6, 13, and 17, and requires the user to set the route manually regardless of which ARS option is currently selected.
ARS has special routes built into the system to reduce the chances of a Mexican stand-off. Trains will be held at signal L185 if timetabled at platform 8/8A/8B/8C/8D or 7/7A/7B at Leeds if the appropriate platform is not empty. This includes joining and platform sharing moves, so if such moves are to take place, the train must be signalled manually from L185. The same applies to signal L3696 to platform 8/8A/8B/8C/8D or 7/7A/7B at Leeds.
At signals 3692/3694 at the east end, and at all signals L3635 to L3645 at the west end, trains will be held by ARS until their entire platform is clear. For example, a train scheduled to platform 11C or 11D is routed via the through line, but ARS won't set route onto the through line until the route from the through line to platform 11C/D is also available.
Finally, routing from L3633 to L3635 won't happen until a route from L3635 is also available.
None of these methods are infallible.
Regulation Notes
Check departure times carefully. Don't set route for a train out of Leeds until the TRTS is operated.
Check the train descriptions are interposed correctly. Complex divides and joins may not be possible with ARS.
For longer trains, ensure the entire train will fit in the platform. Don't set route into the near end of the platform until the far end is clear. Alternatively you can set the mid-platform signal route first, then the route from the station throat towards the mid-platform signal.
It is possible to get dog knotted, particularly with E/F lines and platforms 15 to 17. Coordinate closely with your colleague on West 1.
Hold Up empty stock trains in the loop at Marsh Lane until their booked platform is vacant, or becoming vacant.
East 2
This workstation covers Neville Hill out to Micklefield, Church Fenton, and towards Gascoigne Wood. The four track lines beyond Church Fenton head towards Colton Junction with York just a few minutes beyond.
Signalling Notes
Neville Hill
For trains from Leeds to Neville Hill Depot, a loop exists where trains can be queued before entering the depot (labelled DHGL - Down Hull Goods Loop). Trains can be routed to signal N18 for the depot with no involvement from the depot itself, but routing to L779 exit requires the appropriate slot to be granted. The slot must be requested by placing a phone call to the depot.
Trains exiting the depot will normally present themselves at L779, with the depot interposing the headcode for you.
Neville Hill performs a number of untimetabled shunt moves that pass the section of track between signals L777 and L779. The normal method of operation is that York IECC sets a virtual route (basically a slot) from L779 into the neck. This then allows Neville Hill to shunt backwards and forwards over that section without any further intervention from York. However, when a train is scheduled to depart the depot towards Leeds, the signaller has to cancel the route (which will time out) before the route out of the depot can be set. With some SimSig wizardry the train will not call wrong route, nor complain about the signal being put back, but will wait until you have set the correct route. It will still call up waiting at (fictional) signal Y779.
If the shunting route between 777 and 779 is not set, and Neville Hill want to use it, you'll get a phone call to notify you of this.
Church Fenton & Ulleskelf
A track circuit override exists at Church Fenton for platform 3. This allows either of shunt signals L5271 or L715 to show a proceed aspect into an occupied platform. Right-click on the red circle labelled F609 once the route has been set in order to activate the override.
Ulleskelf only has platforms on the Normanton lines, so any trains booked to stop there must use that pair of tracks.
Regulation Notes
Don't send up empty stock on the UHM line unless either booked to do so, or the signaller on East 1 requests it. Some are booked to wait at Marsh Lane until their platform is empty which might not be for some time.
West 1
This workstation is the funnel feeding Leeds station. Trains come together on no less than six pairs of lines, merging to form three bi-directional pairs at Leeds station throat. While Armley/Holbeck/Copley Hill/Engine Shed junctions to Leeds is a short route geographically, the approaches themselves vary a lot in relative distances. Thus, a train can take 10 minutes to slowly approach from Harrogate but suddenly race across the screen once it gets to the shorter signal sections at Armley Junction.
Note that the Up direction is to the left throughout the simulation with the exception of Armley Junction and to the left, where leftwards is Down. For simulation purposes the change of direction happens at the gantry of 3870/3872/3874/3876 and 3869/3871/3873/3875 which is a little further from Leeds than in real life. The reason for this is trains reversing between Whitehall Junction (including lines A/B) and Armley Jn.
Signalling Notes
Signal L3633 is unusual in that there is no route from it to the next logical signal, L3629. Instead, route should be set from L3633 to L3637 (or L3635) at Leeds West Junction.
Signal L3631 to L3645/L3643 is very short and signal L3631 will not show proceed unless a train is brought nearly to a stand at L3631 or L3645/L3643 (as appropriate) is already showing proceed.
The interlocking does not prevent nose-to-nose situations at Copley Hill East Junction (L3611/L3614). Care should be taken to avoid such situations! ARS will try to avoid such situations by preventing routesetting if another route exists in the opposite direction.
ARS
Routing from L3633 to L3635 won't happen until a route from L3635 is also available.
If you have a train waiting on the west curve between Engine Shed Junction and Whitehall Junction, a second freight train would be best held on the down goods lines between Stourton and Hunslet Station Junctions. ARS will not make this decision for you, so watch what appears from Castleford/Methley Junction.
Regulation Notes
It is possible to get dog knotted, particularly with E/F lines and platforms 15 to 17. Coordinate closely with your colleague on East 1.
The approach from Harrogate is long. Don't route trains over Armley Junction until the train has departed/passed Burley Park (BP).
A number of moves are timetabled between Engine Shed Junction and Leeds on the "wrong" side of each other - for example, L3633 to L3635 to platform 16 or 17, with a parallel movement P10/11/12/13/15 to L3636 to L3860 to L3854. There is often a good reason for this so don't try to "fix" it by running on the "correct" lines!
When routing from Leeds West Junction to the left, think carefully about how you're going to get the train to its destination. There are many routes where the train can't get to its destination.
West 2
This workstation covers the Midland line from Engine Shed Junction (inclusive) to Methley Junction (exclusive). This is a busy freight area with more complex shunting movements requiring your attention. Passenger trains also use this line but less frequently than some of the other lines out of Leeds.
Signalling Notes
Hunslet Ground Frame
This ground frame and associated hand points and hand signalling is complex. Refer to the diagram supplied in the ground frame carefully. The red numbers relate to point lever numbers, the blue facing point lock levers, and the grey signal levers. There are additional levers representing the hand points on the ground (levers 8 to 11) and switches to simulate the handsignals. Note that hand points and hand signals are not interlocked with the ground frame so care should be taken not to move something under a train, have points set the wrong way for a move, or to give erroneous hand signals.
Note that the SID and DS1 lines may not match documentation you might have for the area. Various sources of in the simulation author's collection contradict each other. For the purposes of simulation, DS1 is a through line with signal L920 at the left end, while SID is a dead-end siding. DS2+ represents the fan of sidings numbered from 2 onwards.
The following lever sequences indicate how to get a train from X to Y. A sequence of 4R, 2N, 3R means move lever 4 reverse, then lever 2 normal, then lever 3 reverse. A label in (round braces) also means to move reverse. The set up sequence allows a train to move. Once movement is complete, the restore sequence should be followed. The set up sequence assumes all levers are normal.
| Movement | Set up | Restore |
| --- | --- | --- |
| Middleton to Rec 1 | 8R 1R 6R 5R 6N 12R | 12N 6R 5N 6N 1N 8N |
| Middleton to Rec 2 | 8R 1R (Middleton-handsignal) | Middleton-handsignal 1N 8N |
| Middleton to DS1 | 8R 1R 10R (Middleton-handsignal) | Middleton-handsignal 10N 1N 8N |
| Middleton to SID | 8R 1R 10R 11R (Middleton-handsignal) | Middleton-handsignal 11N 10N 1N 8N |
| Middleton to DS2+ | 8R 1R 9R (Middleton-handsignal) | Middleton-handsignal 9N 1N 8N |
It is left to the user to work out the remaining sequences!
Many trains out of Hunslet Down Sidings reversing behind L908 or on the shunting line will need route setting from L4487 or L4489 due to the overlength of the train and the short section between L908 and L4487 or the shunt line equivalent. Then, once the train is clear of the pointwork at Hunslet Station Junction, the route will need cancelling manually as the train will not have operated the TORR completely. Neither of these actions will be performed by ARS.
ARS
Freights coming around from Whitehall Junction to Engine Shed Junction may need watching as ARS might set the route before time if it thinks that the freight will clear the section to Stourton without delaying other traffic.
Regulation Notes
Stourton grant the slot to the FLT fairly quickly. However, if a freight is delayed entering into the FLT with a passenger train approaching its rear, you can abandon its timetable and send it on to the Arr/Dep line or the Down Sdg and then back it into the FLT when ready.
Freight trains from the Shipley/Apperley Jn area around to Engine Shed Junction can be recessed at signal L3615 to await a path. However, longer ones may lock the overlap across Whitehall Junction (West). Cancel the route from L3874 if that is the case once the train has come to a stand at L3615.
Level Crossings
All Level Crossings in the simulation are on the East 2 workstation.
| Name | Type | Located Between |
| --- | --- | --- |
| Adamsons | UWG | Micklefield & Church Fenton |
| Barrowby Lane | BDLY | Cross Gates & Micklefield |
| Church End Farm | UWG | Sherburn & Church Fenton |
| Mantston | MWL | Cross Gates & Micklefield |
| Peckfield | BDLY | Cross Gates & Micklefield |
| Poulters | UWG | Micklefield & Church Fenton |
| Rose Lane | UWG | Micklefield & Church Fenton |
Multiplayer & Chaining
The two real-life workstations have been split into two, to allow up to four players in Multiplay. West 2 and East 2 are the easier of the four; all players must work closely together to avoid stitching each other up!
The simulation chains at the following locations:
Hot Keys
In addition to the standard shortcut keys , the following are available:
| Key | Panel Area |
| --- | --- |
| C | Church Fenton |
| E | Engine Shed Jn |
| H | Holbeck Jn |
| L | Leeds |
| M | Micklefield |
| N | Neville Hill |
| S | Stourton Jn |
| W | Whitehall Jn |
Acknowledgments
Simulation by: Geoff Mayo
15/10/2009 WTT by: Noel Young ('Noisynoel')
Reference Section
Signal Number Plan
Leeds Signal Number Plan
This is an Adobe Acrobat PDF file. If you don't have Adobe Acrobat Reader installed on your computer you can get a free download of the latest version from the Adobe website . Use the Find function (Ctrl+F) in the PDF to locate signals.
Signal Box Prefix Codes
| Code | Signal Box |
| --- | --- |
| CD | Castleford* |
| CF | York IECC (Church Fenton Interlocking) |
| GW | Gascoigne Wood* |
| M | Milford* |
| N | Neville Hill Depot* |
| S | York IECC (Stourton Interlocking) |
| U | Batley (Up line automatic signals*) |
| Y | York IECC (York area)* |
*Fringe Signal Box: signals not controlled in this simulation
Non-prefixed signals are controlled by York IECC. All are plated L (former Leeds PSB area) on the ground.
Signal Locator
Signals in the area tend to follow patterns. The following table will help you narrow down a signal location.
| Range | Area |
| --- | --- |
| 182-186 | Neville Hill |
| 702-744 | Micklefield through Church Fenton |
| 770-813 | Neville Hill to Micklefield |
| 907-951 | Stourton |
| 1806-1821 | Micklefield through Gascoigne Wood |
| 2001 | Micklefield |
| 3594-3633 | Copley Hill, Holbeck Junction, Whitehall Junctions |
| 3634-3697 | Leeds station |
| 3803-3806 | Bradford Lines near Holbeck Junction |
| 3853-3864 | Hunslet Station Junction to Engine Shed Junction |
| 3869-3898 | Armley Junction |
| 4421-4423 | Leeds station |
| 4487-4491 | Hunslet Station Junction |
Stations
Per the IECC displays, the SimSig displays by default only show two character codes for most stations. These are expanded here:
| Code | Station |
| --- | --- |
| BP | Burley Park |
| BY | Batley |
| CS | Crossgates |
| CY | Cottingley |
| EH | East Garforth |
| GH | Garforth |
| HY | Headingly |
| MD | Micklefield |
| NP | New Pudsey |
| SD | South Milford |
| WD | Woodlesford |
Platform, Loop & Siding Lengths
Leeds Platform Lengths
| Platform/Siding | Length (m) | Notes |
| --- | --- | --- |
| 1 | 301 | Class 373 sets can be stabled on this platform |
| 2 | 236 | |
| 3 | 133 | |
| 4 | 152 | |
| 5 | 201 | |
| 6 | 279 | |
| 7 | 99 | |
| 8 | 337 | |
| 8A/B | 161 | |
| 8C/D | 156 | |
| 9 | 270 | |
| 9A/B | 101 | |
| 9C/D | 149 | |
| 10 | 99 | |
| 11 | 368 | |
| 11A/B | 142 | |
| 11C/D | 150 | |
| 12 | 309 | |
| 12A/B | 86 | |
| 12C/D | 144 | Westbound |
| 12C/D | 123 | Eastbound |
| 13 | 105 | |
| 14 | 77 | |
| 15 | 216 | |
| 15A | 99 | |
| 15B | 99 | |
| 16 | 225 | |
| 16A | 103 | |
| 16B | 102 | |
| 17 | 105 | |
The below chart shows platform lengths for Leeds station.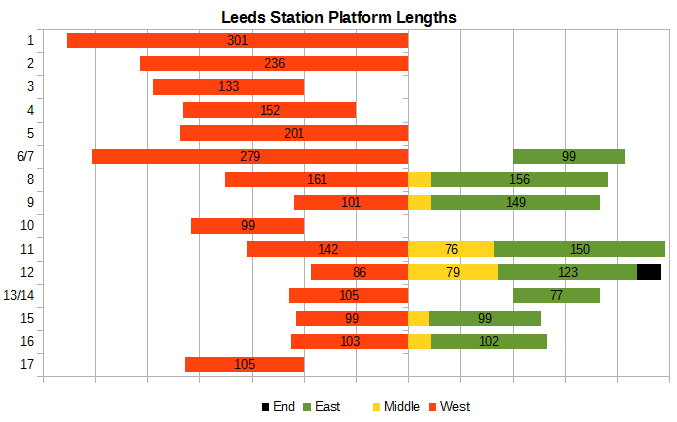 Red indicates platforms at the West end of the station, Green platforms at the East end of the station, Yellow the middle section between the signals on the through platforms e.g. between 3661 and 3678 on platform 8, and Black the end section on platform 12D (available westbound only).
Platform lengths are given in metres, with the gridlines at 46m intervals. This is estimated to be close to two typical car-lengths.
Other platform lengths
| Location | Platform | Length (m) |
| --- | --- | --- |
| Church Fenton | 3 (Down) | 132 |
| ::: | 3 (Up) | 121 |
| Micklefield | Down | 89 |
| ::: | Up | 90 |
Loop lengths
| Location | Loop | Length (m) |
| --- | --- | --- |
| Neville Hill | Up Hull Goods Loop L786 | 475 |
| ::: | Down Hull Goods Loop L772 | 225 |
| Engine Shed to Whitehall | Both | 365 |
| Copley Hill | L3611 clear of Up Doncaster | 125 |
| Whitehall | Between L3875 and L3613 | 405 |
| ::: | Between L3873 and L3615 | 405 |
| Stourton | Between L928 and L929 | 693 |
| ::: | Between L930 and L921 | 693 |
| Hunslet | Between L922 and L907 | 702 |
| ::: | Between L924 and L919 | 195 |
| ::: | Between L908 and L4487 | 137 |
Please see this page:
Splash Screens
The license called "CC BY 2.0" is defined here . The license called "CC BY-SA 2.0" is defined here .
All images cropped and/or resized only.
Filename
Description
License
Credits/Attribution
Splash1.jpg
Platform 17 at Leeds
CC BY 2.0
Owner: "Mikey"
Photo: Source
Splash2.jpg
Platform 8 at Leeds
CC BY-SA 2.0
Owner: John Pease
Photo: Source
Splash3.jpg
Platform 10 and HST on through road at Leeds
CC BY-SA 2.0
Owner: John Pease
Photo: Source
Splash4.jpg
Northern Belle in platform 11 at Leeds
CC BY 2.0
Owner: "Mikey"
Photo: Source
Splash5.jpg
East end of Leeds station from above
CC BY 2.0
Owner: "jcw1967"
Photo: Source
Splash6.jpg
Inside Leeds station
CC BY 2.0
Owner: "Tejvan"
Photo: Source
Splash7.jpg
Signal gantry between the east and west workstations outside Leeds station
CC BY 2.0
Owner: Tim Green
Photo: Source
Version History
Known Issues
Possible issue with ACI in platforms 11A/B still occurring. This is now believed to be wrong routing with the final platform being on the planned route, but which the ACI code not handling correctly. If this is the case, it'll be addressed in a leter core code update.
---
Last edited by Steamer on 01/05/2021 at 16:26