You are here:
Wiki
>
start
>
simulations
>
royston
---

Page is locked
Royston
Please note: This manual is for old .exe version of Royston. The manual for loader version (4.0) can be found on Clive's website .
=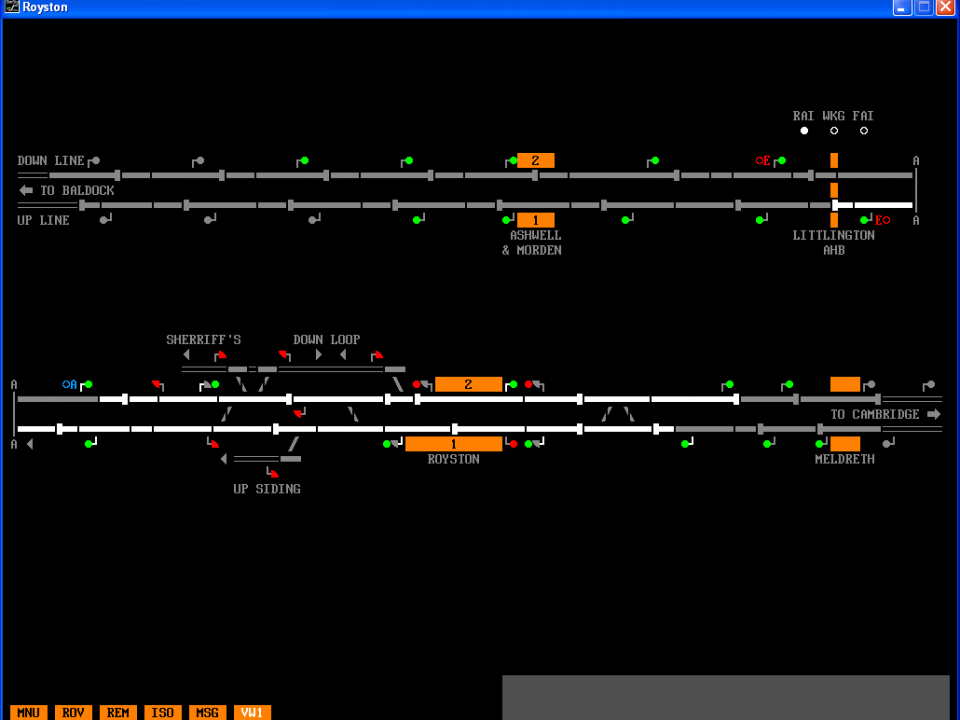 Introduction
Once upon a time I played SimSig King's Cross and noted that it didn't cover the whole of the real power box. Biggleswade appeared as part of SimSig Peterborough, but Royston station itself was still missing. I suggested to Geoff that it would make a nice "training" simulation for those wanting something easy to cut their teeth on.
Then I got invited to join the development team, so I thought it would make a good simulation for *me* to cut my teeth on, and so it proved. As a bonus, it can also be chained to King's Cross and allow a 7th player into the fun.
Geographical summary
The simulation covers Royston station and the associated sidings as they were in the late 1970s and early 1980s. Most of the sidings have gone though the main signalling remains unchanged. It extends south to just before Baldock (where SimSig KX takes over) and north towards Shepreth, but both these sections are all automatic signals.
Signal locations and aspects, signal and points numbers, and track circuit boundaries are all as authentic as my sources allow.
Speeds are 75 to 90 mph, with a 50/65 limit through the station and slower speeds on crossovers. Running lines are equipped with 25kV overhead power, but the sidings are for diesels only.
Location specific
Most of the activity takes place at Royston. The signal arrangement at the north end means that the overlaps and routes aren't always obvious, and you will need to watch the signal "stems" to see what routes are and aren't set. If you're bringing trains in from opposite directions to platform 1 to join, you may have to wait a minute or two for the route to "time out".
There are "long routes" right across the layout for through trains; clicking on 975 then C103, or 986 then 976, will set the route right through if it can. Remember that some trains are scheduled through the "wrong-line" platform to allow them to pass others and so can't use these.
The LOS on the Down line is closer to signal 977 than you might think. Long trains won't fit in there and need to be reversed on the Up.
Littlington AHB will work itself and won't need any attention. Note that, if a train is waiting at either of the signals protecting the crossing when that signal clears, the signal will stay red for a short while to ensure the crossing has activated before allowing a train to proceed across it.
Trains
The supplied timetable is based on the weekday service of Summer 2003 plus a few imaginary freight trains. The timetable has not been cross-checked with the King's Cross one.
Normal headcodes are used. Trains with a C or T headcode run through to or from Cambridge (C headcodes reverse at Cambridge, T headcodes continue further north). Trains with an R headcode reverse at Royston. ECS workings may be class 3 or class 5; the former indicates a train that is key to the morning peak service.
A Final Note
If you fancy writing a timetable from a different period of time, then please have a go. Perhaps you might like to alter the timetable provided. If you think you have created a masterpiece of a timetable, then we would love to see it, maybe it could be posted on the SimSig website for others to download. Remember that SimSig timetables are for use with SimSig only and not for any other use.
We hope that you enjoy SimSig Royston and thank you for your support. Keep up to date with all things SimSig by visiting our website which includes a forum page for posting news and views about SimSig. Have fun.
Operational Tutorial
This is an initial attempt at a Royston Tutorial intended to help people new to SimSig, but more importantly new to signalling, to get started operating their first simulation.

Reference Section
Signal Number Plan
Signal Number Plan as PNG images
(Images include normal view with black background and inverted colours (white background) for economical printing.
Route Tables
Speed Limit Plan
With the are exception of the PNG image, these are Adobe Acrobat PDF files. If you don't have Adobe Acrobat Reader installed on your computer you can get a free download of the latest version from the Adobe website . When checked during June 2014, it had reached v11 and the download size was just over 70MB.
Signal Box Prefix Codes
Non-prefixed signals are controlled by Cambridge PSB (C)
© 2005 G. Mayo, C.D.W. Feather
---
Last edited by GeoffM on 15/09/2016 at 03:00