You are here:
Wiki
>
start
>
simulations
>
westbury
---
Westbury
Sim Versions
Version
Status
Scroll/Views
Loader
Published
Comments
V2.8
Donationware
V
08/05/03
No longer available for download
V2.101
Donationware
V
06/06/05
No longer available for download
V2.227
Donationware
S
21/08/11
No longer available for download
V4.1
Donationware
SL
05/11/13
No longer available for download
V4.2.1
Donationware
SL
17/12/2013
No longer available for download
V4.2.2
Donationware
SL
20/12/2013
No longer available for download
V4.2.2
Donationware
SL
20/12/2013
No longer available for download
V4.3.0
Donationware
SL
08/01/2015
Available via Loader
Introduction
Welcome to SimSig Westbury! Westbury is another non-IECC location to take advantage of the authentic SimSig simulation model. All the usual SimSig features are included in this simulation which shows what Westbury may look like if it was controlled by an IECC.


About the Westbury Area
In SimSig Westbury, you will control most of the Berks & Hants line that runs between Reading and Taunton via Westbury. The entire Westbury Panel box area is covered, along with the B&H panel of Reading PSB (latterly controlled by Thames Valley Signalling Centre).
The length of route is quite considerable - 100 miles from Aldermaston to Athelney, which takes even High Speed Trains well over an hour to cover. Add to that 40 more miles of branches - Bathampton and Thingley Jns to Warminster, Castle Cary to Yeovil, and the Merehead Quarry branch.
Much of the route consists of widely spaced signals, especially on the western/southern end. It is mostly 3-aspect signalled, although there are some 4-aspect signals around Newbury and Westbury. Other branches and beyond Castle Cary are 2-aspect signalled with repeater signals.
In real life, the area is controlled by two signal boxes. Thames Valley Signalling Centre (TVSC) controls - amongst others - the area depicted on 'Reading' panel (previously this area was controlled by Reading PSB). Westbury controls the remaining two panels. TVSC is a modern IECC box, which replaced Reading PSB in Winter 2010. Westbury is an older signalbox employing the NX push-push style of routesetting and dates from the 1980s.

Multiplay and Chaining
Suitable for one person operation although two will make it easier
Panel Description
Reading
Level Crossings
All level crossings on this panel are controlled locally by Crossing Keepers . Provided a route is set from the appropriate signals, the barriers will be lowered and signals cleared as a train approaches each crossing.
Newbury
All platforms are permissive . Note that platform 2 is bi-directional, and some Down trains are booked to use it to allow other overtaking moves. The Down line is also bi-directional through Newbury Racecourse.
Flashing yellows are provided for the route from the Down Westbury to Newbury platform 1 only; all other loop entrances are approach released from red.
Ground Frames provide access to Racecourse Down Sidings and the Shell Mex sidings. In order to allow a train to enter/exit the sidings, the ground frame must be operated to set the siding points and give a slot to the main panel; a route can then be set to/from the sidings. Note that the points from the Down Westbury to Newbury loop must be Normal before Racecourse sidings Ground Frame can be released.
Bedwyn
Terminating trains from the Newbury direction use the turnback siding to cross back to the Up Westbury. Note that some trains have longer layovers in the siding than others; be sure to check the timetable carefully.
Savernake
Ground Frames allow trains to cross from one line to the other here; note that there is a separate frame for each end of the crossover, and that there is a 120 second delay between releasing the frame and being able to move any levers.
Woodborough
Both loops are permissive. Woodborough GF is operated in the same way as the frames at Newbury.
Panel A
Westbury
The main focus of the simulation, Westbury has three passenger platforms and two goods tracks. There is a yard on the Up side of the station, which is used for stabling passenger stock and also is used by freight. There is another set of yards on the Down side of the station which are just for freight.
Some passenger trains will stop here for more than just a minute or two. Watch out for them as you can easily lock up the station if you set route too early.
All platforms and goods loops are bi-directional and permissive. A phone call must be placed to Westbury Down Yard (which includes New Sidings), Westbury Up Yard, the Engine Sidings and Cement Works before sending a train to those locations.
There is a Barrow crossing at the east end of Westbury Station. Setting a route causes the 'safe to cross' light at the crossing to extinguish; signals will clear approximately 15 seconds later, to give time for staff to clear the crossing.
Warner routes are available at the east end of Platform 2 and west end of Platform 3.
Trains booked directly from Fairwood Jn to Heywood Jn and vice-versa may be routed via the station if required, however this will take longer than the direct route.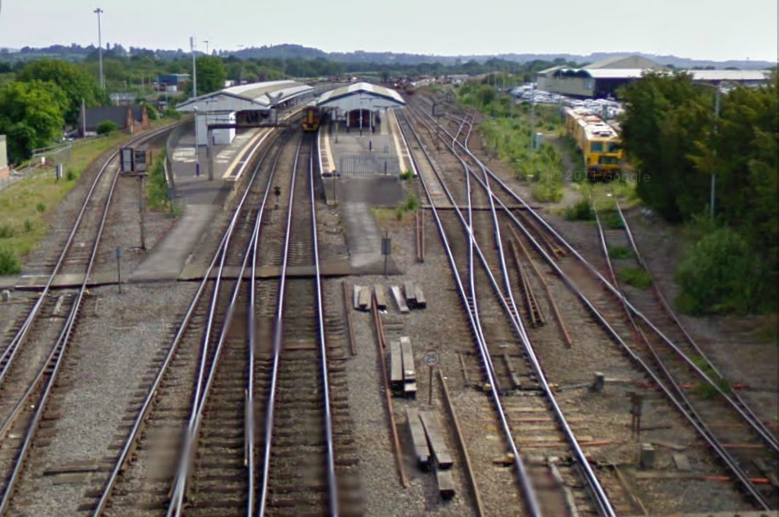 View from Google Maps showing the north end of Westbury station - note the barrow crossings
Swindon Fringe
A single line connects Bradford Junction to Thingley Junction. You are in control of this section and the Swindon signaller will therefore ask for a slot when they want to send you a train. Descriptions of approaching trains enter the 'Approach' berth as they pass Wooton Bassett Jn, approximately 10 miles from Thingley Jn; the slot is requested as the train approaches Chippenham.
Bradford on Avon
To prevent the barriers at Greenland Mill AHB lowering too early for trains stopping at Bradford on Avon (with the attendant risk of impatient drivers swerving round the barriers), stopping and non-stopping controls are provided. Before setting the route from signal 186, click on the appropriate control for the approaching train. The 'stopping' control will hold 186 at red until the train is ready to start from the station (the traincrew press a button to start the crossing sequence). If the wrong control is selected, the route from 186 must be cancelled before the correct control can be selected. Greenland Mill is a particularly dangerous crossing; due to the tunnel, track curvature and lineside trees, visibility for both train and car drivers is poor.
Note that the town name is not hyphenated - the locals get very agitated if you do.
Bradford Jn
Note that it is possible for a train from Thingley Jn to reverse on the Down Trowbridge at Bradford Jn and continue to Bathampton Jn, using signals 119 and 190.
Warminster
Ground frames control access to the MOD sidings and Warminster sidings; a phone call must be placed to the MOD sidings before signalling a train in. Some trains terminate at Warminster and use the crossover beyond the station to return to Westbury.
Panel B
Whatley Quarry
A phone call must be placed to Whatley Quarry to obtain the slot on signal 422. Note that it is possible to set a route up to 422 without obtaining the slot- leading to a potential stand-off between trains entering and leaving the yard. As such, the slot should be obtained before signalling the train past Frome North Jn.
Frome
A tiny station for a tiny service but still retains a respectable overall roof. Trains booked to use the direct route between Clink Road and Blatchbridge Jn and vice-versa will accept the route via Frome station, however it is much slower than the direct route.
East Somerset Jn
It is not possible to set routes from W275 to W277 at the same time as routes from W75 to W77 or W77 to anywhere unless the track circuit in the Branch Loop is occupied. This is as per the real box.
Note that there is only 260m available between signal 224 and the Up line; freight trains to Merehead are generally longer than this. The UGL should be used to hold freight trains awaiting access to the single line.
Merehead
Phone calls must be placed to Merehead the Merehead Arrival and Departure lines to obtain the slot to route a train in. Departures from Merehead generally back into White's siding before proceeding to East Somerset Jn.
A phone call should be placed to Cranmore (East Somerset Railway) before sending a train there.
Yeovil Fringe
The passing loop and junction at Yeovil Pen Mill is controlled by the signalbox of the same name. To send a train to Pen Mill, simply set the route through to YP64. The slot will be requested and granted automatically as the train heads to Yeovil. The Yeovil signaller will request a slot when they wish to send a train.
Somerton
Ground Frames allow trains to cross from one line to the other here; note that there is a separate frame for each end of the crossover, and that there is a 120 second delay between releasing the frame and being able to move any levers.
Note that signal sections between Castle Cary and Cogload Jn are significantly longer than those on the rest of the simulation.
Line Speeds
Line speeds vary, the following is a typical average for that line:
Mostly around 100mph all the way along the Berks and Hants Main Line
60-70mph for the Bathampton - Westbury line
15mph around Westbury East Curve
40mph through Westbury
75mph on the Warminster line
40mph on the Frome loop
Platform and Loop Lengths
(extracted from 1/4/2009 Route Capability Plan where shown with dual units. Metric only from sim data.)
| Location | Plat/Direction | Length |
| --- | --- | --- |
| Midgham | Dn | 97m/106y |
| | Up | 117m/128y |
| Thatcham | Dn P1 | 147m/160y |
| | P2 Up | 155m/170y |
| Newbury Racec'se | P1 Dn | 87m/97y |
| | P2 Up | 74m/81y |
| | DPL | 208m/225y |
| Newbury | P1 | 291m/318y |
| | P2 | 327m/358y |
| | P3 | 129m/141y |
| | DPL | 442m/1459ft |
| | UPL | 359m/1176ft |
| Kintbury | P1 Dn | 105m/115y |
| | P2 Up | 106m/116y |
| Hungerford | P2 Dn | 150m/164y |
| | P1 Up | 153m/167y |
| | UPL | 679m/2226ft |
| Bedwyn | P1 Dn | 121m/132y |
| | P2 Up | 123m/135y |
| | Siding | 135m |
| Pewsey | P1 Dn | 170m/186y |
| | P2 Up | 177m/194y |
| Woodborough | DGL | 640m/2100ft |
| | DGL Spur | 95m |
| | UGL | 666m/2184ft |
| Westbury | P1 | 224m/245y |
| | P2 | 203m/222y |
| | P3 | 197m/215y |
| | Patney Sdg | 97m |
| | Dn Rec | 445m |
| | Up Rec 211-602 | 335m |
| | Up Rec 211-LOS | 395m |
| | Up Rec 207-LOS | 795m |
| | Back Rd | 295m |
| | Salisbury Spur 701 | 395m |
| | Salisbury Spur 705 | 435m |
| | Dn Trowbridge Sdg | 295m |
| | Up Trowbridge Sdg | 495m |
| Frome | Platform | 109m/119y |
| Frome North | UGL | 327m/1071y |
| East Somerset Jn | U/DGL | 532m/1743ft |
| | Sdgs 1&2 | 145m |
| Bruton | P2 Dn | 144m/157y |
| | P1 Up | 130m/142y |
| Castle Cary | P1 | 198m/217y |
| | P2 | 197m/215y |
| | P3 | 70m/77y |
| | D/UPL | 487m/1596ft |
| Trowbridge | P1 Dn | 108m/118y |
| | P2 Up | 154m/168y |
| Bradford-on-Avon | Up & Dn | 120m/131y |
| Avoncliff | Up & Dn | 30m/33y |
| Freshford | Dn | 78m/85y |
| | Up | 82m/90y |
There are a few things that may help with inputting timetables that need mentioning. They are summarised below.
When inputting trains into the editor, certain locations must be included to satisfy the editor's requirements. These reflect the key timing points on the routes in the area simulated.
Below are the most important rules about the editor when inputting timetables….
Key Locations
All trains passing through the following locations must list them in their timetable:
Bathampton Junction
Thingley Junction
Chippenham
Wootton Bassett Junction
Bradford Junction
Westbury
Heywood Road Junction
Warminster
Wilton Junction
Frome
Fairwood Junction
Clink Road Junction
Blatchbridge Junction
East Somerset Junction (for Merehead trains only)
Castle Cary
Yeovil Pen Mill
Cogload Junction
Lavington
Woodborough
Bedwyn
Newbury
Southcote Jn
Headcodes
Standard train descriptions are used in SimSig. The letter coding shown below can be used as a rough guide as to where the train goes when using the timetable supplied with the software. The coding of train descriptions changes from time to time to suit traffic requirements, therefore, the coding provided may not apply to timetables from other time periods.
A – Trains to London Area (Paddington etc.)

B – Trains between London, Worcester, Cheltenham, and South Wales

C – Trains between London and Bristol area

F - Cardiff to Portsmouth service and vice versa

K - Bedwyn trains

M – Trains for the Midland Zone, also some Melksham services

O – Trains that terminate in the Southern Zone
\
S – Trains heading towards Scotland

V – Trains heading toward the Western Zone from other Zones

X – Special trains and out of standard loading gauge trains

Z – Special trains and Short Notice Workings

Things to Watch Out for...
Remember that some of the sections are very long, particularly if a repeater signal is involved. Make sure you don't lock up a junction for a train that is still several miles away.
The Melksham branch is long and single. Before you allow a train to set off from Westbury for Melksham, check that you'll be able to get it on there without delaying a following train for Bathampton Jn. Hold it at Westbury if necessary.
Known Bugs
*Stopping button at Greenland Mill behaves the same as the non-stopping button.
See also: Known Loader bugs
A Final Note
If you fancy writing a timetable from a different period of time, then please have a go. Perhaps you might like to alter the timetable provided. If you think you have created a masterpiece of a timetable, then we would love to see it, maybe it could be posted on the SimSig website for others to download. Remember that SimSig timetables are for use with SimSig only and not for any other use.
We hope that you enjoy SimSig Westbury and thank you for your support. Keep up to date with all things SimSig by visiting our website which includes a forum page for posting news and views about SimSig. Have fun.
Reference Section
Signal Number Plan
These are Adobe Acrobat PDF files. If you don't have Adobe Acrobat Reader installed on your computer you can get a free download of the latest version from the Adobe website . Use the built-in Find function (Ctrl+F) to locate signal numbers.
Signal Box Prefix Codes
| Code | Box |
| --- | --- |
| DA | Down Athelney automatic signals |
| DT | Down Trowbridge automatic signals |
| DW | Down Westbury automatic signals |
| E | Exeter* |
| R | Reading |
| S | Salisbury* |
| UT | Up Trowbridge automatic signals |
| UW | Up Westbury automatic signals |
| YP | Yeovil Pen Mill* |
Non-prefixed signals are controlled by Westbury (W)
Pressing these keyboard numbers centres the active view window at these locations:

1 - Left-hand end of panel

2 - Newbury station

3 - Trowbridge station

4 - Westbury station

5 - Clink Road Junction

6 - East Somerset Junction

7 - Right-hand end of panel

Locations of Level Crossings
Numbers correspond to keyboard view numbers (above)
| A - G | F - P | S - W |
| --- | --- | --- |
| Avon View 3 | Frying Pan Farm 3 | Staverton Farm 3 |
| Cemetery Lane 3 | Hamstead 1 | Thatcham 1 |
| Colthrop 1 | Hapsford 6 | Thorney Marsh 7 |
| Cross Cottage 7 | Hungerford 1 | Tuckers 3 |
| Dennings 6, 7 | Kintbury 1 | Waldens 3 |
| Forrestry 7 | Midgham 1 | Westbury (barrow) 4 |
| Greenland Mill 3 | Parsonage 7 | Whites 7 |
Milepost Numbers
Mileposts are shown at selected locations. These are measured from London Paddington (Southcote- Cogload & the branch to Yeovil), from Westbury (towards Bathampton/Thingley and Wilton), or from junctions with the main line (Merehead and Whatley).
Acknowledgements
Original Sim built by Geoff Mayo or Mike Miles (need to confirm who)

Major reconstruction to Scrolly by Daan Krantz, with minor fiddlings by Peter Bennet and further fiddling by Howard Potter

Clive Feather and Kurt Sickelmore assisted with data and code programming.

With thanks also to Andy Greenland, John Gallon
---
Last edited by Peter Bennet on 08/12/2020 at 21:45