You are here:
Wiki
>
start
>
usertrack
>
areainfo
>
aston
---
Aston
London Midland Region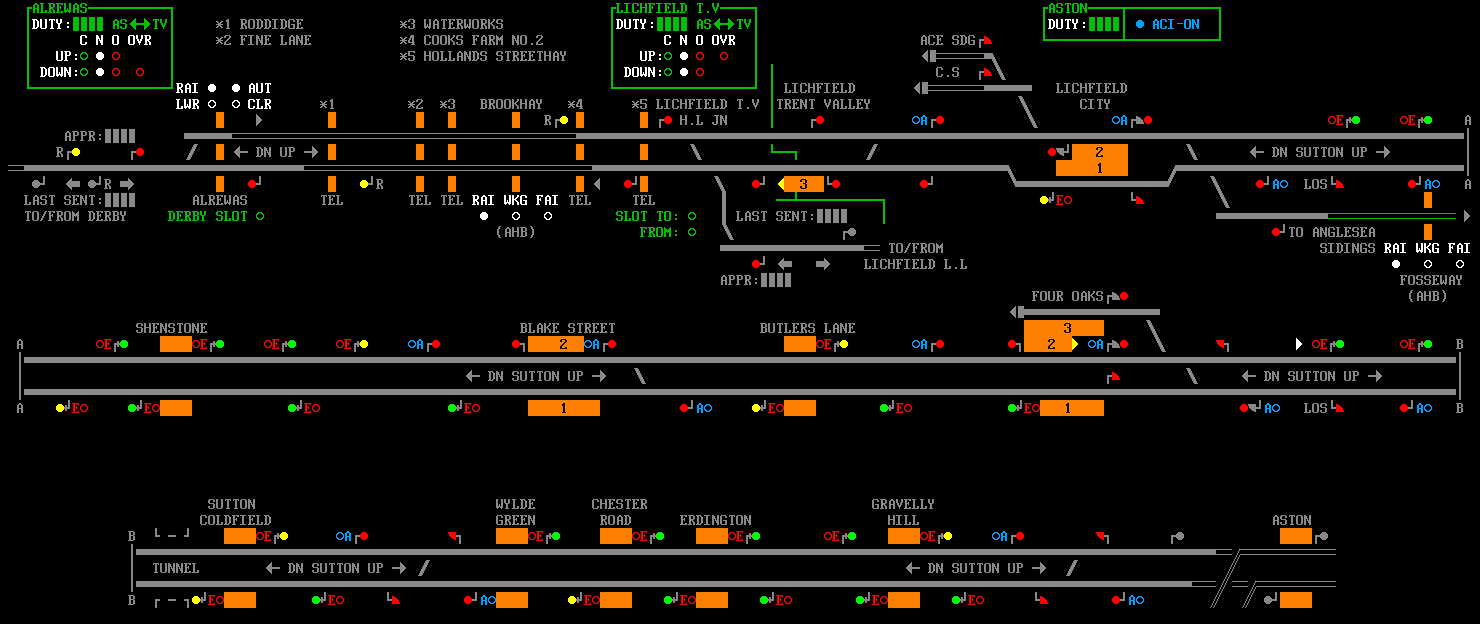 Introduction
Welcome to SimSig Aston! You will be controlling the northern end of the busy Birmingham Cross City Line from just beyond Aston North Jn all the way through to Wichnor Jn (near Burton on Trent, en route to Derby), a total of 20 route miles, and covering 3 signal boxes: Aston PSB, Lichfield Trent Valley High Level, and Alrewas. The simulation era covers the period from when the area was resignalled into Aston PSB, in October 1992, right up to the current day. Traffic is almost entirely passenger from Aston to Lichfield Trent Valley, with occasional freight and night-time ECS workings beyond to Wichnor Juntion.
Aston is currently free to download and play, although Donations are gratefully received.
Multiplay and Chaining
Key Features
Difficulty Rating
Passenger- Medium
Freight- Low
Layout Complexity- Low
Overall- Low
Credits
(Taken from the manual)
Thanks go to several folks. First and foremost, thanks to Geoff for creating such a fun pastime as developing SimSig. A big thanks to Mr Potter, who finished off the work started off by Chris Lord, including adding the AB sections. Lastly, thanks to the usual suspects, (you know who you all are), for their time and effort testing both the sim and the TT.
---
Last edited by Steamer on 06/12/2020 at 19:27