You are here:
Wiki
>
start
>
usertrack
>
areainfo
>
limestreet
---
Liverpool Lime Street
London Midland Region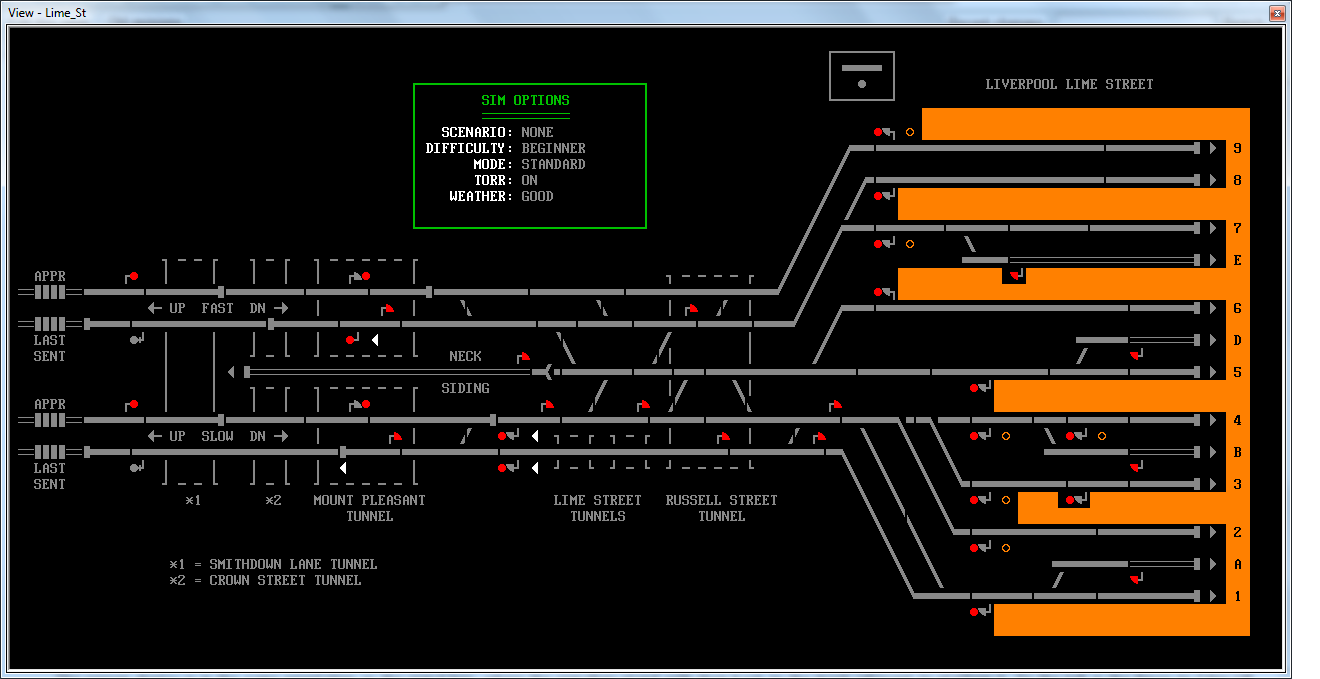 Introduction
Liverpool Lime Street is a busy terminus station in the north-west, where long-distance trains from London, Scarborough, Birmingham and even Norwich meet suburban services from Manchester, Wigan and Blackpool. Also included are the sidings at the station, which don't see much use nowadays, however they will be much busier if a historical timetable is used. True to the real-life box, this simulation covers the station and it's immediate approaches- less than 1 mile of route. However, it's intense service, coupled with small area, makes this a excellent single-player simulation.
Liverpool Lime Street is also simulated as part of the Edge Hill simulation.
Liverpool Lime Street is currently free to download and play, although Donations are gratefully received.
Multiplay and Chaining
Key Features
Busy service
Small area
Unusual signalling arrangements for the station sidings..
Terminus working
Difficulty Rating
Passenger - medium
Freight - none
Layout Compexity - medium/low
Overall - low
Credits
Of course I must thank Geoff Mayo for creating software that has kept me amused for too many hours of my life and allowing me to try my hand at this developing lark.
Thanks go to Clive Feather for his tutoring at the London meet 2011 to help me figure out some coding.
I also thank Ben Woodward for creating a timetable and Noel Young for fixing Ben's mistakes!
Special thanks go to fellow developers Chris Lord, Howard Potter and Paul Curran for their invaluble assistance in all things code and test build related.
Dave McCormick gets a separate mention for his track circuit estimations, and Andy "Jinx" Greenland for his useful maps and diagrams.
And also for the other people who have tested Lime Street; James Nelhams, Mark Jones and James Warwick.
I thank you all so much, and without your input there wouldn't be the sim we have today.
Matt Cooper, developer of SimSig Liverpool Lime Street
---
Last edited by Steamer on 10/04/2020 at 12:36