You are here:
Wiki
>
start
>
usertrack
>
glossary
>
spad_indicator
---
SPAD Indicator
SPAD indicators were installed at a number of locations where the probability of a train passing a signal at danger, or the consequences thereof, were judged to be high. The signals were placed just beyond the main signal to which they applied, and consisted of a normal 3-Aspect signal head, with a bright blue surround. Normally unlit, in the event of that signal being passed at danger, a solid red light was displayed in the centre of the signal, with flashing red lights above and below.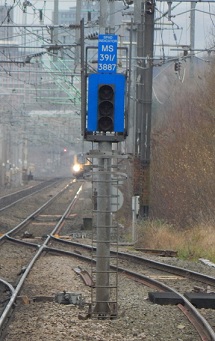 The SPAD indicator for MS391/MS3887 at Cheadle Hulme.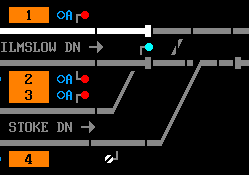 The SPAD indicator as shown on the Manchester South simulation
The first SPAD indicators were installed in the mid 1990s. They were rendered superfluous by the introduction of TPWS a few years later. Since that time, very few new examples have been installed, and they remain relatively rare on the network.
As in the example above, a SPAD indicator can apply to more than one signal. In SimSig, SPAD indicators are fully functional, however depending on the developer's preference, they may be omitted from the simulation.
---
Last edited by Steamer on 16/07/2020 at 22:04