You are here:
Wiki
>
start
>
usertrack
>
ssrun
>
func
>
f11
>
points
---
F11 Points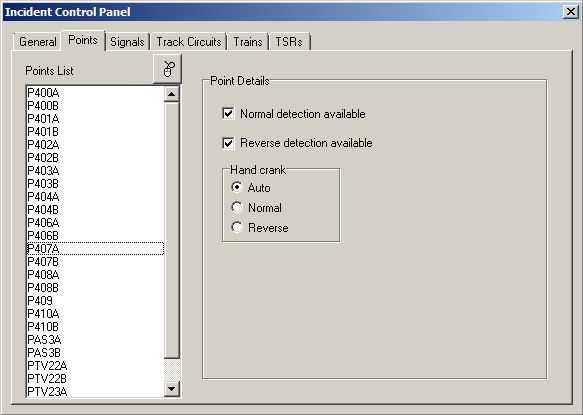 Points can be selected by scrolling down the list, or by clicking on the mouse symbol and clicking the point ends on the main view.
Selection of particular points allows Normal or Reverse Detection to be enabled (normal setting) or disabled (failed).
Hand Crank
It is possible to simulate someone at the point using a hand crank to move the points to the required position. This can be used where a track circuit failure has locked a set of points in one position. The normal position of the crank is Auto- this leaves control of points in the hands of the point motor as usual. Clicking either 'Normal' or 'Reverse' will change the points to that position, and hold them there. Trains can proceed over the points. When the TCF has cleared, remember to put the points back into Auto mode.
---
Last edited by GeoffM on 15/09/2016 at 03:00