You are here:
Wiki
>
start
>
usertrack
>
ssrun
>
func
>
f3
---
F3 Options
Note: These pages are based on Loader simulations. Non-Loader simulations may not have all features shown here.
The options box can be brought up by:
Using function button F3 on the keyboard
Clicking MNU on paged simulations, then selecting Options from the menu
Clicking on the Show menu of scrolly simulations, then selecting the Options menu item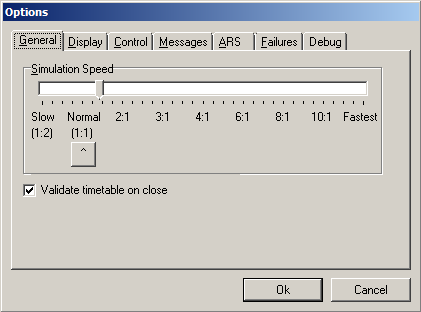 There are a number of tabs available in this dialog box:
| | |
| --- | --- |
| General | Sets simulation speed and other general options |
| Display | Various controls for the display of the Simsig window, track circuits, shunt signals etc |
| Control | A couple of options for what the mouse does |
| Messages | Controls how you receive messages from the system (pop-ups, alert noises etc) |
| ARS | Controls options for the Automatic Route Setting system (not available on all sims) |
| Failures | Sets options relating to frequency/length of failures |
| CSS | Setup custom styling of your simplifier, tranlist, and timetable popup |
NB. On simulations without ARS, the ARS tab will not appear in the F3 options box.

Debug is a developer tool and is not available on released Sims.
---
Last edited by headshot119 on 03/07/2020 at 16:58