You are here:
Wiki
>
start
>
usertrack
>
ssrun
>
simrun0
---
Starting a Simulation
All simulations are installed and launched via the SimSig Loader.
Loader Simulations
Single Player
Open the SimSig Loader.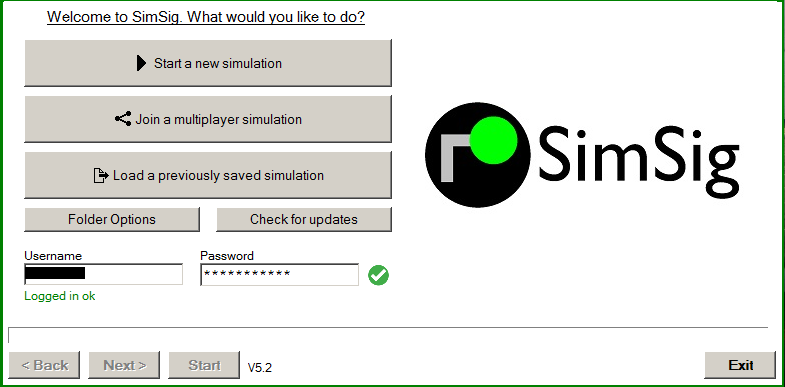 Enter your SimSig username and password if you intend to use a Payware simulation. The Loader will save your login details, so you won't need to enter them next time you start the Loader. A green tick indicates that a valid username and password was entered; a red cross indicates either an incorrect username and password, or that the SimSig server couldn't be reached- a message stating which is the case will be shown below the login box.
Select 'Start a New Simulation'.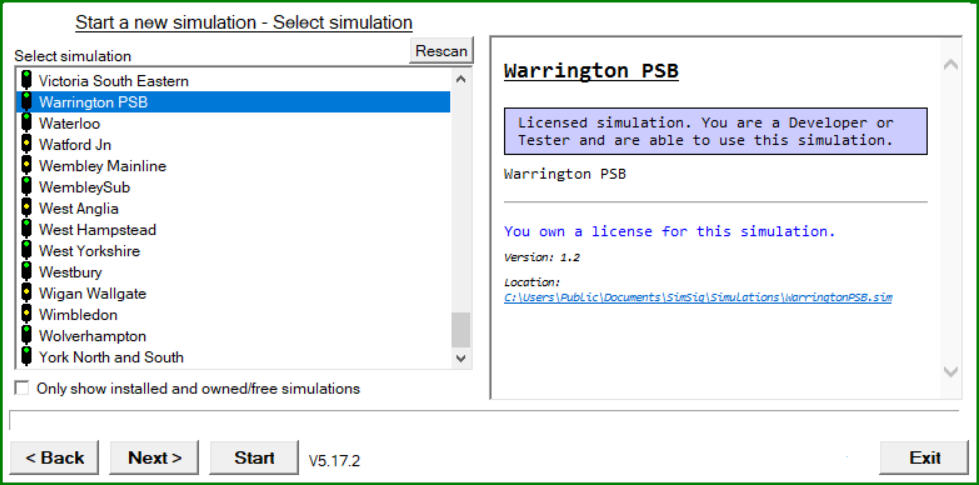 A list of all SimSig simulations will be displayed, each with a signal icon next to them.
| | |
| --- | --- |
| Green | The simulation is installed, and is either free or you own a license which is available. The simulation can be run without restriction |
| Yellow | The simulation requires a license, which you do not own or which is unavailable. The simulation can only be run in demo mode. |
| Red | The simulation installation is corrupt, or incompatible with the version of the Loader you're running- ensure any Loader updates offered have been accepted. The simulation will not run. |
Click a simulation to select it. A description of the simulation will be shown on the right, including a brief description. The box at the top will state if a license is required; if you don't have one, a link to the shop will also be displayed. See 'Payware Simulations' below.
Click next to continue.
Click the box at the bottom of the list to show only simulations which have been installed and which are free or you own a license for.
The 'rescan' button refreshes the Loader's cache of installed simulations- click this if a simulation isn't shown which you think should be.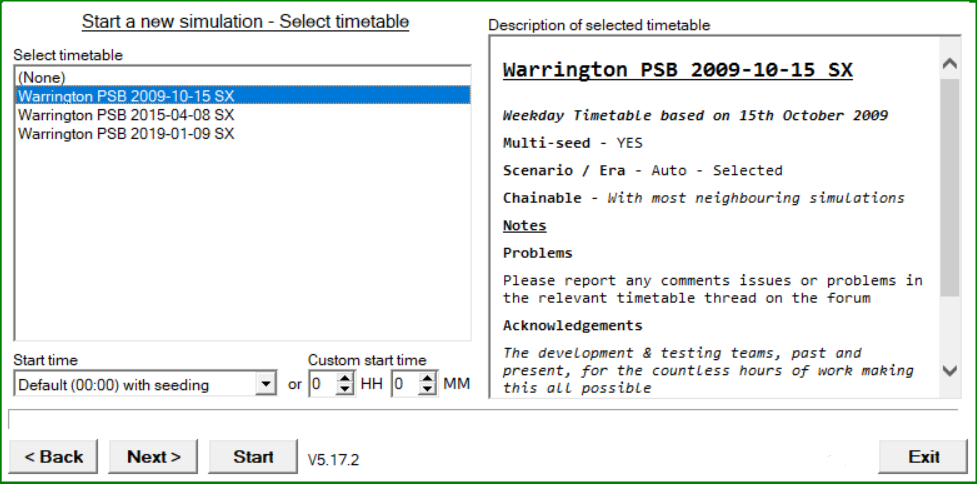 After selecting a simulation, you now need to select a timetable for the trains to run to. At least one timetable is supplied with each simulation, simulating a realistic typical day. You can download new ones from the Downloads section and even write your own (though this is not recommend for inexperienced users). Click a timetable to select it; a description will also appear on the right hand side.
Having selected the timetable, you can also select the start time. Users should select either 'Default with seeding' or one of the 'Seed at [time]' options.
Important: Timetables are written assuming that the user will start at one of these options- internal elements like rules and seed trains are set up around this assumption. Starting at a custom time may result in the timetable not operating correctly, or you seeing significantly less trains than you should do at a given time. As such, the 'Custom' and 'default without seeding' options should only be used by experienced users who are familiar with the timetable editor and understand the implications of starting at a custom time.
Click Next to continue.
The scenarios you have available are often simulation specific. A brief description is given on the right, and the scenarios will also be documented in the relevant Simulation manual . Common options include a "beginner" or "basic" scenario with generally only a few problems, occurring one at a time that only last a short time; a "Standard" scenario gives you a typical level of failures and delays, some occurring at the same time lasting a medium length of time; whilst more difficult scenarios give a large number of failures, many of them concurrent that last quite a long time, possibly in conjunction with one of the special problems like track closures. There is also sometimes a "Random" option where SimSig will pick one of the scenarios at random for you!
We recommend you start with the easier scenarios first. Select the scenario you want and then click 'Next'.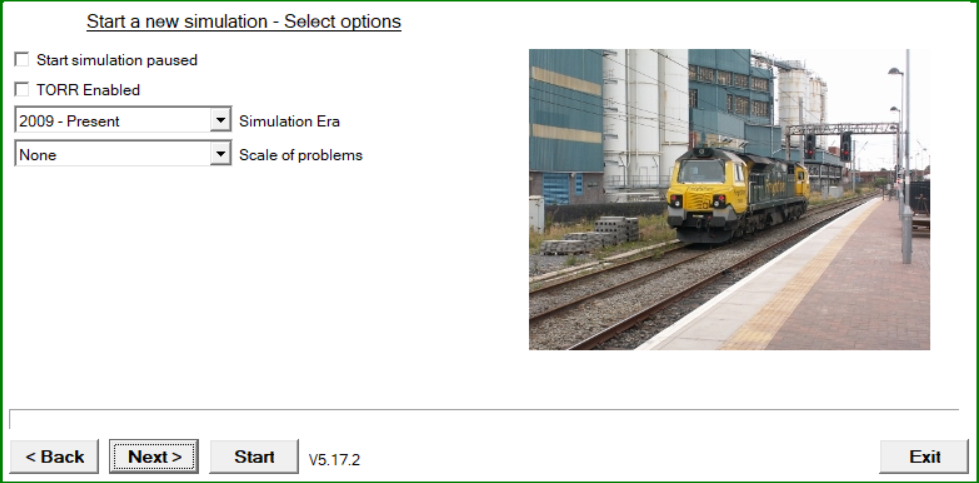 The simulation options page selects specific options that will apply for the whole game. These options vary from one simulation to the next, and again you should refer to the Simulation manual , but some of the more common ones are:
Selecting an era - some sims are able to represent the same area during different periods. So for instance stations might not exist in earlier eras, depots and yards may move, trackwork may have changed. It's usually important to select the era for the timetable you have chosen, see the notes for the timetable for more details or make a guess based on the year of the timetable
TORR or "

Train Operated Route Release ". For sims that have this option, when a train passes a route you set for it, the route will be cleared only if this option is set to "on". If "off", the route will remain set and you have to manually clear it to set a different route. "On" is the normal behaviour for sims that don't have this option, so you might want to set it this way, especially if you're a beginner.

Number of TSRs - defines how many temporary speed restrictions you may have in place - these are usually random and last for the whole game across certain parts of the track.
Once you've selected from the options, click 'Start' to begin, or 'Next' to continue to the Multiplayer section. See below for details of starting Multiplayer games.
Please see below for a list of other pages you may wish to read before playing.
Payware Simulations
All Payware simulations can be downloaded and played for a 15 minute Demo period for free. SimSig encourages users to run the free demo before making a purchase
If you don't have a license for the simulation, clicking the 'Buy now' link in the simulation description will take you to the SimSig Shop , where the simulation can be purchased.
Dynamic Licensing
By default, licenses are allocated to a user's computer dynamically. This means that when the Loader is started, the Loader contacts the SimSig server and checks to see if the user has a License available. If it is, the License is allocated to the user's machine for the duration of the game, and released back to the server at the end.
This allows a user to run SimSig on different computers without having to move the license between each one. Note, however, that a user's license can only be used on one computer at the same time- if you're running a simulation on one PC, then log into the Loader on a second PC, the second PC won't be able to run the same simulation (except in Demo mode). It is also unaffected by users changing, upgrading or modifying their computer, which can cause problems with licenses locked to a specific computer.
Dynamic licensing requires an internet connection throughout the game. If the connection is lost for longer than a few minutes, the simulation will close, after automatically saving the user's game. The License will become available on the SimSig server shortly afterwards.
If a license is available for use, the signal icon next to the simulation will show green.
Locked Licensing
If you anticipate being away from an internet connection and wish to use a payware simulation, it is possible to lock a license to the PC you'll be using.
SimSig advises that users use dynamic licensing by default, and only lock licenses to a machine when they expect to be away from the internet.
To do this, right-click on the simulation in the list and, subject to a license being available as described above, you'll be able to select 'Lock License to this machine'. A blue arrow will appear next to the signal icon, and the simulation can be used while the computer is not connected to the internet. To release the license, right-click and select 'unlock license from this machine'. The license will now be available dynamically.
In the event that you have allocated a license to a computer and subsequently lose access to that computer, right-click the simulation on your new computer and select 'Request License unlock'. A SimSig admin will release the license, which may take a few days, and it will then be available. Note that unlock requests are monitored as frequent requests may indicate abuse of the licensing system.
Free Simulations
A number of simulations are free. At the time of writing, these are: Aston, Brighton, Carlisle, Chicago Loop, Derby, Exeter, Hong Kong East, King's Cross, Lancing, Liverpool Lime Street, Liverpool Street, Llangollen, North East Wales, North Wales Coast, Oxted, Peterborough, Royston, Saltley, Stafford, Swindon A&B, Victoria LUL, Waterloo, Wembley Suburban and Westbury. All other simulations are Payware, and require a license to play beyond the demo period.
Saving a game
You can save a game at any time by following File-> Save as, or pressing Ctrl+S. See Saving a simulation .
Loading a game
You can continue a previously saved game by selecting the Load option. Click 'choose', open the folder of the simulation you want to load a game for, and select a game. Click next if you want to run a multiplayer simulation, if not click Start. Clicking Cancel then Back returns you to the main Loader menu.
See Loading a saved simulation .
Multiplayer- Joining
Click 'Join a Multiplayer simulation'.
Select the simulation you want to connect to, and click next. Then, enter the IP address of the host, and the port in use- this will be advertised by the host in the Forum. Finally, enter the initials you want to be known by in-game, and click start. For more details on joining a simulation, please see this page .
For a more detailed explanation of Multiplayer, including Multiplayer Etiquette, see this page .
If the simulation you wish to join is Payware, you must have a License available for use- see payware simulations above.
Multiplayer- Hosting
Start a simulation as if you were starting a single player game, or loading a single player game- see above. After selecting simulation options, click 'Next'.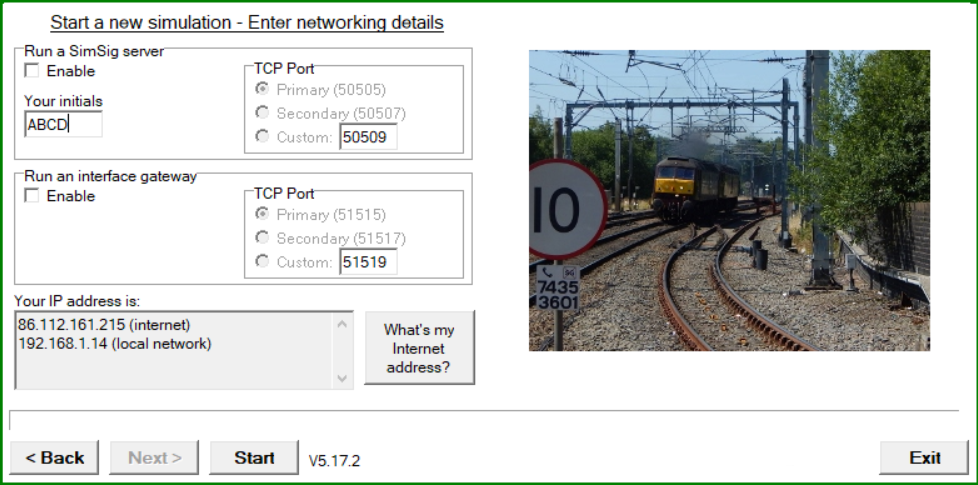 When you get to the last menu, click 'Run as Server'. Then, fill in the boxes, entering the IP address and Port you're using and the initials you want to use, and click start. For more information on hosting, including Port Forwarding, please see this page .
Play
Before playing a simulation, you should always have a quick read of the Simulation manual , which will explain any unusual arrangements in the simulation.
If you're new to SimSig, it's also advised to have a look through the rest of the Wiki. Useful pages include: Simulation display , Route setting , ARS (if provided on the simulation you're playing), Train Control and an explanation of the various menus available.
---
Last edited by Steamer on 03/02/2022 at 18:18