You are here:
Wiki
>
start
>
meets
>
100724London
---
London, Saturday July 24th 2010
Venue
The Railway Tavern, Liverpool Street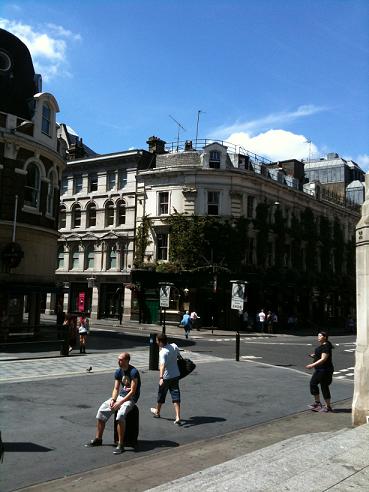 During the course of the afternoon some 40 attended the meeting, and 19 came to the post-meet curry in Brick Lane.
Simulations Used
The simulation set-up was Peter Bennet's McScotland trio of Edinburgh, Central Scotland and an up-dated Beta North East Scotland.
(ED Host+6, C Scot Host + 5, NE Scot Host + 4)
NE Scotland was run with the AB working and Mechanical Locking options enabled to add to the fun.
Operations commenced at 1220 (0445 sim time start) and all 3 simulations ran without a break until 1730 real, 0955 sim times, which has to be a meeting first.
(Scores were 73% on both ED & CScot, but only 32% on NE Scot, possibly a reflection on the correct AB working)
Meet photographs

=
General view (note Chris propping up the bar!)
Edinburgh team hard at work (from near-Praveen, Simon Fish, Paul Biddle,
James Nelhams, Ben Woodward, Mark Jones)
NEScot panels & boxes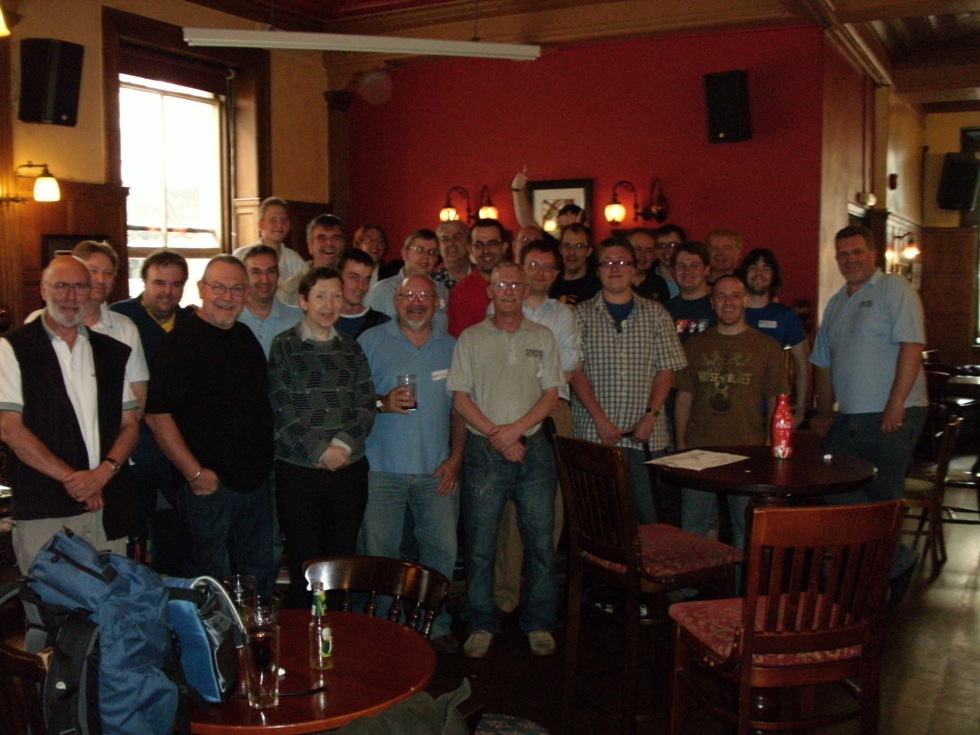 Group photograph

| | | |
| --- | --- | --- |
| 1 Steve Quiller (Quizman) | 10 James Nelhams (JamesN) | 19 Noel Young (Noisynoel) |
| 2 David Atkinson (crompton) | 11 Mike Wilks (thickmike) | 20 Paul Biddle (officer dibble) |
| 3 Paul Curran (DriverCurran) | 12 Ben Woodward (Sacro) | 21 Guy Horstmann (guyh) |
| 4 Neil Brady (panelbeater) | 13 Andy Greenland - "Jinx" (AndyG) | 22 Mark Jones (welshdragon) |
| 5 Kurt Sickelmore (KurtDS) | 14 Mike Miles (Mikey) | 23 Matt Cooper (mfcooper) |
| 6 Howard Potter (Hpotter) | 15 Chris Law (Chrisrail) | 24 Peter Bennet (Peter Bennet) |
| 7 Keith Barber (kbarber) | 16 Bill Wilson (bill_gensheet) | 25 Geoff Mayo (GeoffM) |
| 8 Alan K. - "Woody" (Woodhead Signalman) | 17 John Gallon (postal) | 26 Dave McCormick (IrishDave) |
| 9 Ian Henderson (Ianno) | 18 Tim (UKTrainMan) | 27 Andy Brown (andyb0607?) |
---
Last edited by postal on 19/11/2018 at 09:42