You are here:
Wiki
>
start
>
meets
>
171111London
---
London November 2017 Meet - The Plough, Museum Street - 11/11/2017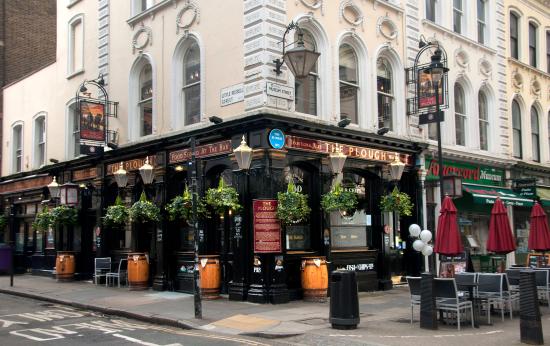 Basic Details
Date: Saturday 11th of November 2017
Time: Noon-6pm.
Price: There will be no charge for this event.
Tripadvisor reviews of the venue .
Signing Up To Attend
Those wishing to attend are asked to register through the Events section of the SimSig web-site here . If circumstances cause anyone to withdraw after registering to attend, then please go back to the event through the Events Section to cancel the registration.
How To Get There
The venue is situated in Museum Street which is a side turning off New Oxford Street halfway between Tottenham Court Road (Central and Northern Lines) and Holborn (Central and Piccadilly Lines) tube stations. The other end of Museum Street is (perhaps not surprisingly) opposite the British Museum.
Bus
Transport for London publish spider maps of bus routes to Tottenham Court Road and Holborn . There are direct services from most London termini to bus stops within easy walking distance of The Plough.
Car
A limited amount of parking is available in bays in the nearby streets. There is also an NCP multi-storey car park where you can pre-book a space further down Museum Street towards Covent Garden. You would be strongly advised to give yourself plenty of time if you are travelling via car. There is no congestion charge at weekends - it ends at 18:00 on Friday and restarts at 07:00 Monday.
Facilities and Venue Details
Food
No food will be provided at the meet but food can be purchased from the bar menu .
Drinks
Real ales, ciders, beers, lagers, wine, soft drinks (brand name cola, lemonade, etc.) and water. Tea and coffee are be available.
WiFi
A private WiFi network will be set up for the meet laptops to connect with each other but not for internet access. WiFi access to the internet is available through the pub system.
Room Layout
The meet will be held in the upstairs room. This is a rectangular room with windows along two sides overlooking Museum Street and Little Russell Street.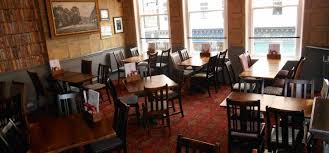 As normally set up the room has small tables able to sit 40 covers for meal service. Arranging the tables round the walls under the windows will allow ample space for the laptops to be used in any multiplay with room for circulation and socialising in the rest of the room.
There is no upstairs bar so drinks will have to be purchased downstairs and carried up to the room.
The Meet
Times
Planned from 12noon to 6pm, those with laptops for use by the SimSig public are asked to arrive by 11:30 and register. Those without laptops are normally asked to wait until noon when it is hoped everything will be ready.
Entrance Fee
The event will take place without any entrance fee.
What's Included
Shared access to multiplayer simulations, tutorials on how to play SimSig if needed.
Where To Stay
There are hotels of all grades and prices from guest-houses to four- and five-star hotels within easy walking distance of the venue. Be aware that even Travelodge/Premier Inn type accommodation within walking distance is often priced in the £80 to £100 range per room so it may be better to get accommodation away from the centre of London and travel in on the day.
Friday night
An informal meet-up may be planned on the Friday night for drinks and perhaps a meal too, but as said this doesn't always happen. More details closer to the time, once location and venue has been decided upon.
Saturday Night
The venue is within easy walking distance of Covent Garden and Soho so there will be ample opportunity for some sort of communal meal after the meet. Alternatively, the traditionalists can go off to Brick Lane (tube from Holborn to Liverpool Street or Bus 8 or 242 from the corner of Museum Street and New Oxford Street to Primrose Street). Travel time by either suggestion is about 40 minutes.
Sunday
No visit has been arranged to date.
What Actually Happened
Following a little bit of teasing by GeoffM on the SimSig Facebook page, we were greeted with 3 sims in the final phase of pre-release testing. These were Manchester Piccadilly, Manchester North and Hunts Cross. A special shout out to Karl Latham (headshot119) and all of those in the team that put together the sims and timetables which were such an unexpected bonus at the meet.
We were also very interested to see the 2 Australian sims that are in the early stages of development (Strathfield and Moss Vale) and glad to see the contingent (MattyQ, Sparky, Flabberdacks and Druey) that had made the long journey from the other side of the world to be with us.
35 people signed up for the meet. While there were a couple of no shows, there were also a couple of walk-ins so we had a full complement.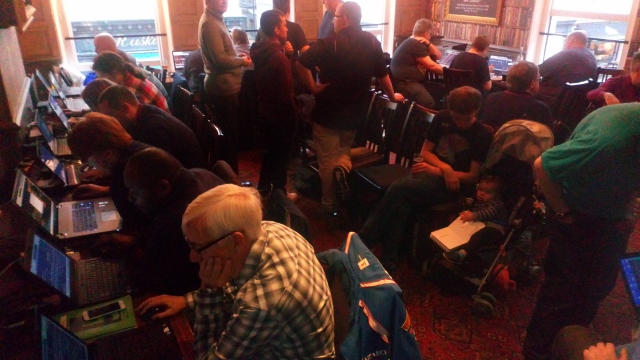 Things were set up in good time so that we had a good run until shortly after 17:00 when things were closed down for the day. A number of the panels in use were challenging to say the least but all who took part enjoyed the day.
Once things were closed down, there was the obligatory group photograph before the discussion turned to finding a venue for a curry.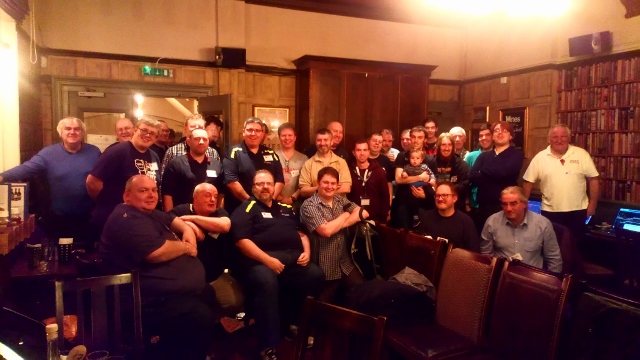 1. Andy Greenland (AndyG)
2. John Gallon (Postal)
3. Sam Tugwell (SamTugwell)
4. Druey (Druey)
5. Mark Camp (Lagertow)
6. Dave Harries (DaveHarries)
7. Steve McSherry (TRC666)
8. Steve Turner (Flabberdacks)
9. Damien George (Sparky)
10. Bill Wilson (Gensheet)
11. Chris Mansfield (WesternChampion)
12. Clive Feather (Clive)
13. Mick (CaseyJones)
14. Gareth (Timtamtoe)
15. Ben Woodward (Sacro)
16. Paul Curran (DriverCurran)
17. Keith Barber (KBarber)
18. Ian (Ianno)
19. Dylan (Ianno Jr)
20. Rob (RFW)
21. Adam (TempestMalice)
22. Geoff (Northroad)
23. Dave McCormick (IrishDave)
24. James Nelhams (JamesN)
25. Ken Otter (Tallington)
26. Alan Gilchrist (AlanG)
27. John Mills (MELD)
28. Matt Smith (MattyQ)
29. Matt Cooper (mfcooper)
30. Andrew Smith (Ginger)
31. Laurence Skinnerton
Karl was behind the camera and there were a couple who had already left before the photo was taken.
---
Last edited by postal on 19/11/2018 at 15:23