You are here:
Wiki
>
start
>
meets
>
181117London
---
London November 2018 Meet - The Walrus and The Carpenter, Monument Street, EC3R 8BU - 17/11/2018
Basic Details
Date: Saturday 17th November 2018
Time: Noon-6pm.
Price: There will be no charge for this event.




Tripadvisor reviews of the venue .
How To Get There
The venue is situated in Monument Street facing onto Lower Thames Street. Google map of the area here . It is a short walk from Monument Underground Station. Monument is served by the District and Circle Lines and is connected to Bank which is served by the Northern, Central and Waterloo & City lines as well as the Docklands Light Railway.
Bus
Transport for London publish spider maps of bus routes to Monument and Bank .
Car
TBC
Facilities and Venue Details
Food
No food will be provided at the meet but food can be purchased from the bar menu .
Drinks
The venue is a Nicholsons house with a range of real ales, ciders, beers, lagers, wine, soft drinks (brand name cola, lemonade, etc.) and water. Tea and coffee will be available. The upstairs bar will be staffed for our meet but the full range is not carried in the upstairs bar. There will still be a selection of real ales, lagers etc. available but drinks may be carried upstairs from the downstairs bar if the range upstairs is not suitable.
WiFi
A private WiFi network will be set up for the meet laptops to connect with each other but not for internet access. WiFi access to the internet is available through the pub system.
Room Layout
The meet will be held in the upstairs Dining Room which is reserved for our exclusive use.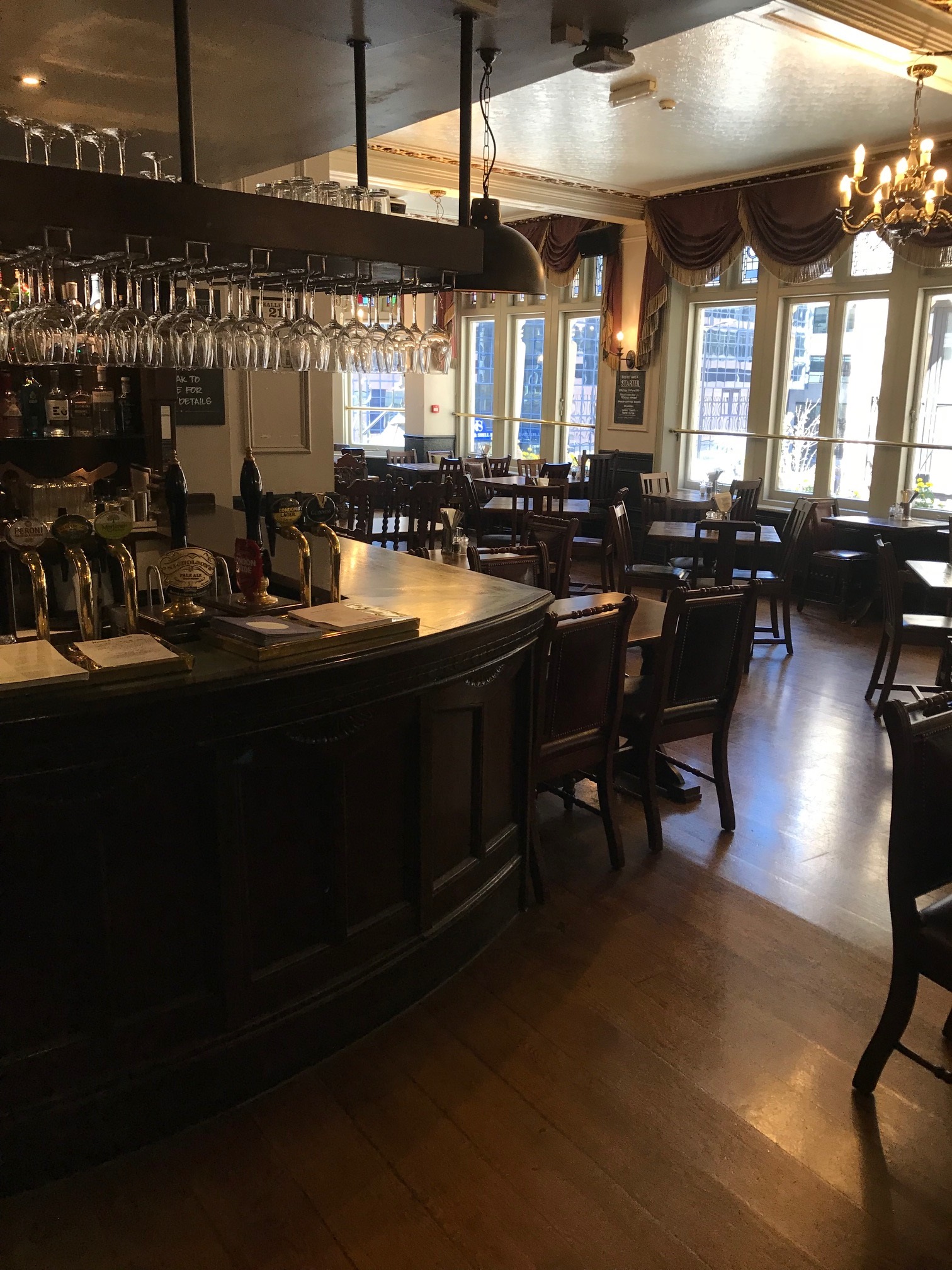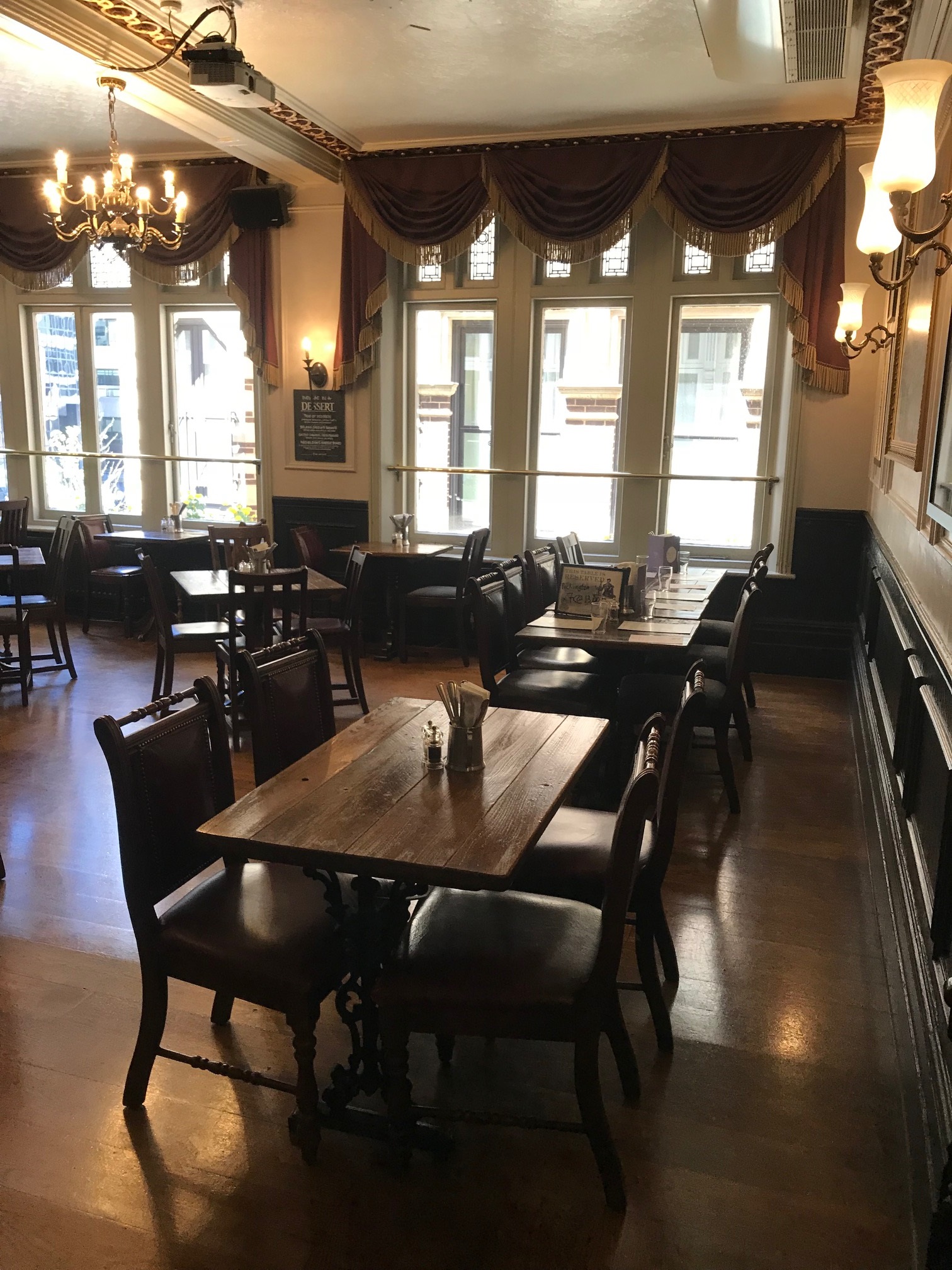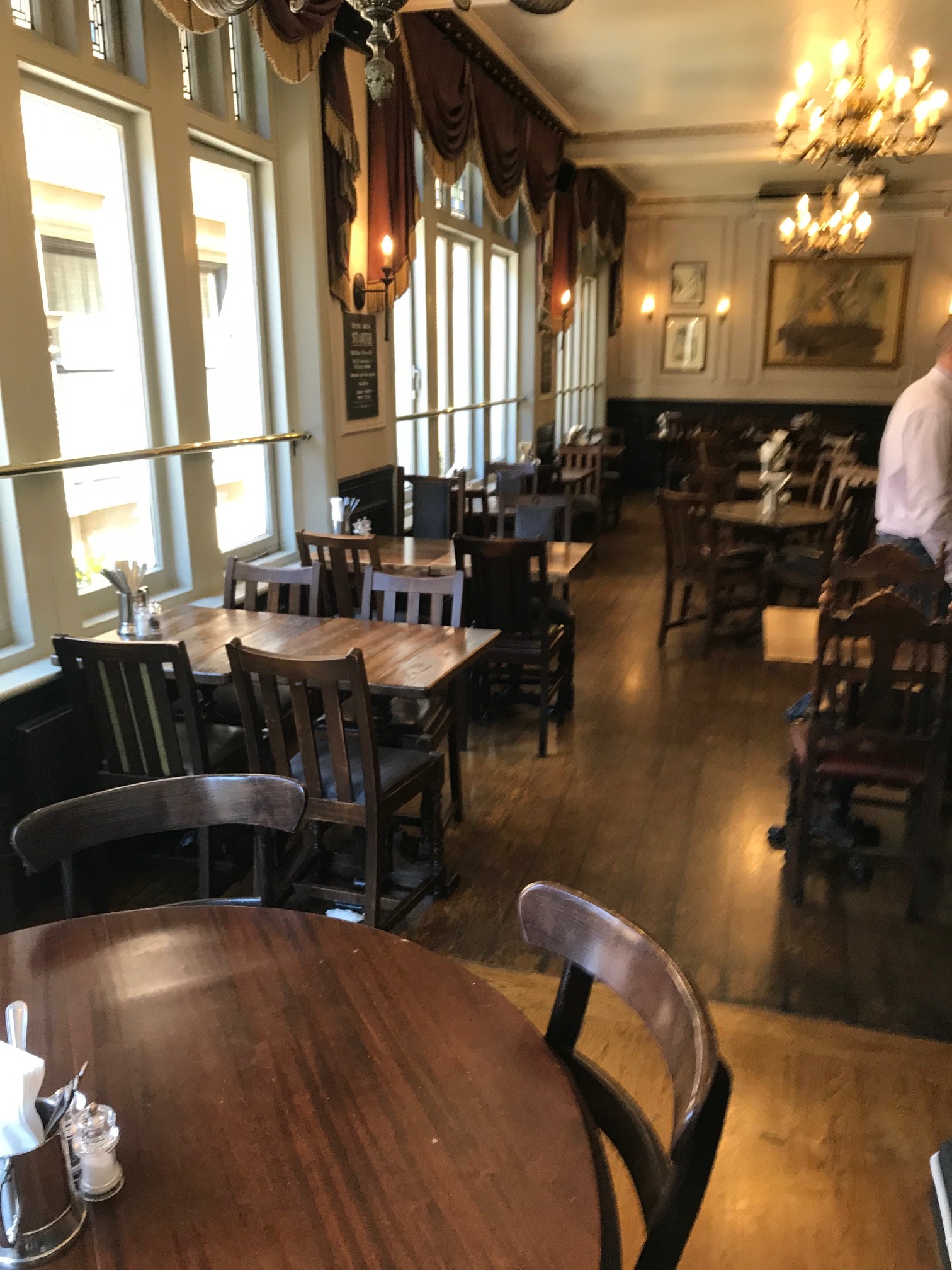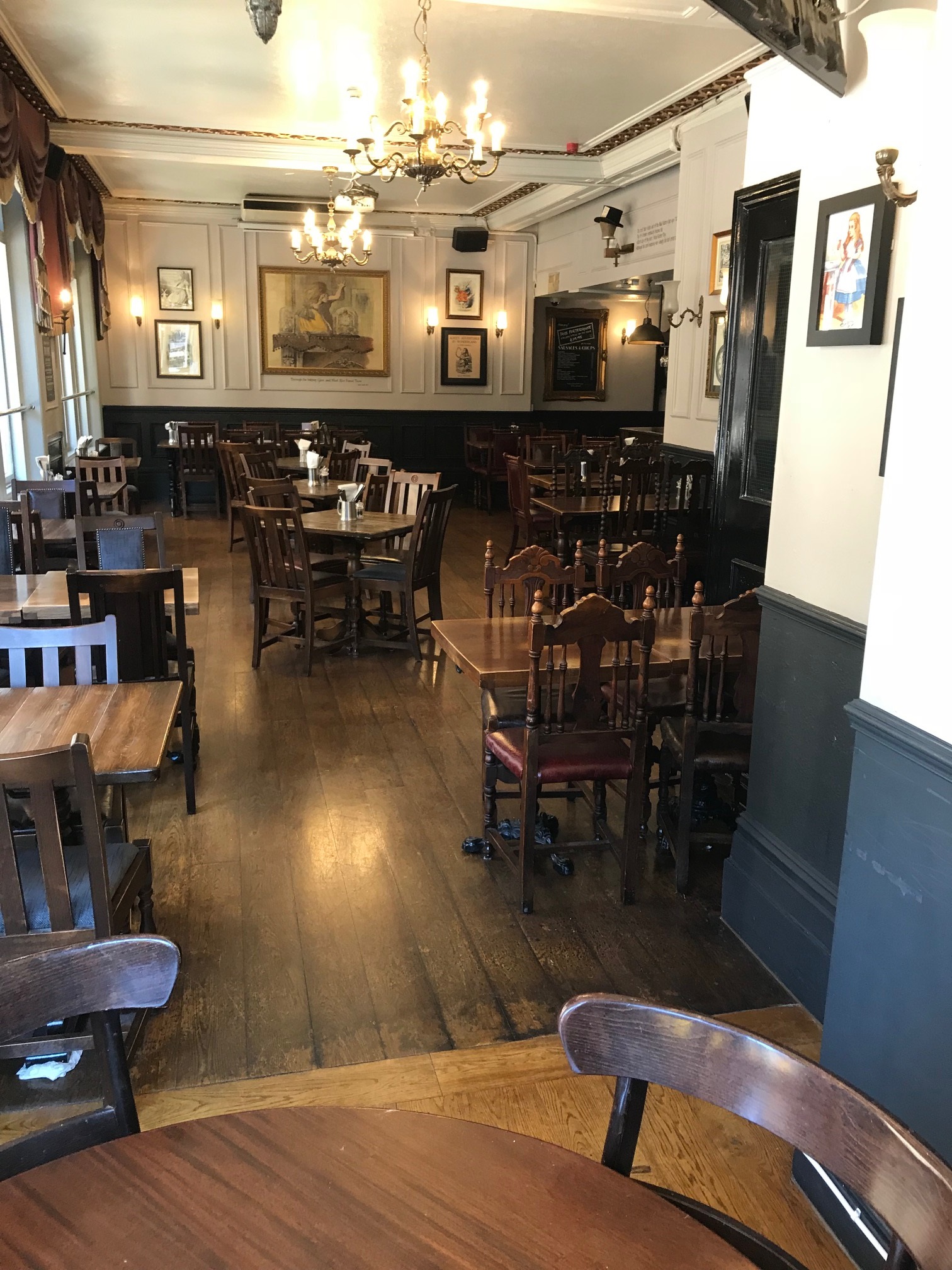 Arranging the tables under the windows will allow ample space for the laptops to be used in any multiplay with room for circulation and socialising in the rest of the room. There are a couple of shots further down this page where you can see the room configured for our purposes.
The Meet
Times
Planned from 12noon to 6pm, those with laptops for use by the SimSig public are asked to arrive by 11:30 and register. The venue does not open until 12:00 on Saturdays but will allow access for those wishing to set up before that time. Those without laptops are normally asked to wait until noon when it is hoped everything will be ready.
Entrance Fee
The event will take place without any entrance fee.
What's Included
Shared access to multiplayer simulations, tutorials on how to play SimSig if needed.
Where To Stay
There are hotels of all grades and prices from guest-houses to four- and five-star hotels within easy walking distance of the venue. Be aware that even Travelodge/Premier Inn type accommodation within walking distance is often priced in the £80 to £100 range per room so it may be better to get accommodation away from the centre of London and travel in on the day.
Friday night
An informal meet-up may be planned on the Friday night for drinks and perhaps a meal too, but as said this doesn't always happen. More details closer to the time, once location and venue has been decided upon.
Saturday Night
Although it has been tradition to go off to Brick Lane for a curry after a London meet, the trip from The Walrus and The Carpenter to Brick Lane is perhaps a little complicated with a bus or underground trip and a walk at each end. To avoid this hassle for the curry eaters, a booking has been made for 1830 at Silka Resturant, 6-8 Southwark Street, London SE1 1TL . This is in Borough Market which is a 10-minute walk across London Bridge from the meet venue.
Alternatively people can head off to Covent Garden or Soho taking the Central Line from Bank towards Holborn or Tottenham Court Road.
Sunday
No visit has been arranged to date.
Sims used
Staffordshire, Manchester South, Stockport and Sandhills
What Actually Happened
Although the venue does not officially open on Saturday until 12:00, Karl, Alan, John and James from the development team gained access at 11:00. This gave plenty of time for things to be set up (including the big screen and projector so we had a live view of the Staffordshire sim for the whole afternoon) and the tables to be configured for our purposes ready for those attending. I think all were agreed that we have found a good venue for our purposes with plenty of room for those wishing to take part in the multiplay but also plenty of room for those who wished to sit and socialise or eat from the bar menu. The bar was manned during our meet so the socialising could take place without having to traipse up and down stairs for the next round of lubrication. There were a number of people who had not attended a meet before, and I think they were all surprised at how easy it was to fit into things and get on with the roomful of strangers into which they had thrown themselves.
The prices were as you would expect in London which was probably the only downside to the venue.
As promised, there was the opportunity to try sims which had not been seen before so many thanks to the development team for that. Because we were able to set things up before 12:00 we started running the sims earlier than usual and managed the best part of 5 hours of sim time before the meet drew to a close.
After that, many of those attending walked over London Bridge and partook of a curry at Silka in Borough Market.
All in all a successful meet followed by the traditional curry.
The Group Photo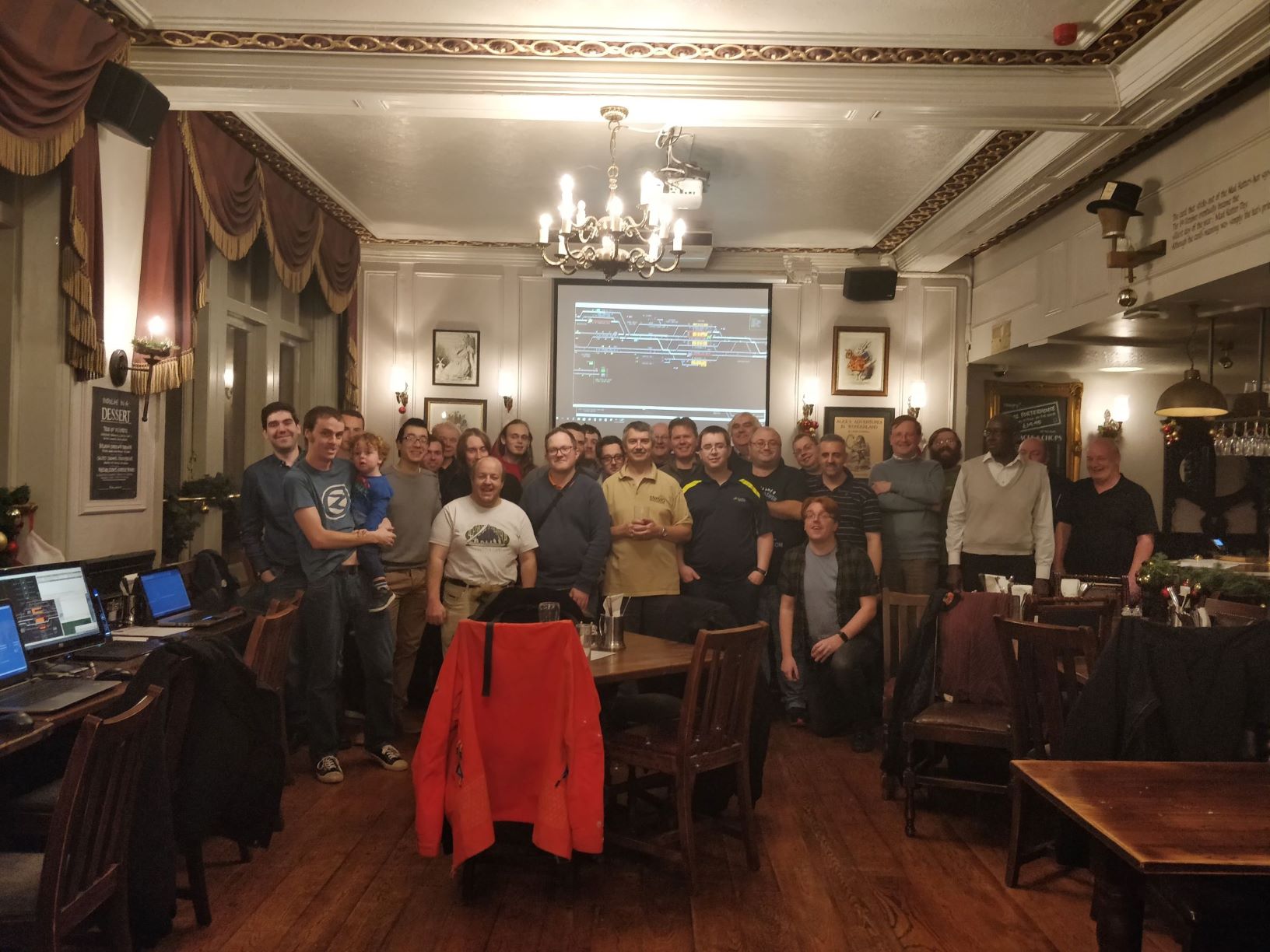 | No. | Name | Username | | No. | Name | Username | | No. | Name | Username | | No. | Name | Username |
| --- | --- | --- | --- | --- | --- | --- | --- | --- | --- | --- | --- | --- | --- | --- |
| 1 | Dave | IrishDave | | 8 | Adam | Tempest Malice | | 15 | Clive | clive | | 22 | James | JamesN |
| 2 | Ian | Ianno | | 9 | James | jimmyj5579 | | 16 | John | postal | | 23 | Jamie | 9pN1SEAp |
| 3 | Michael | M1ch4el | | 10 | Thomas | Edgemaster | | 17 | Chris | WesternChampion | | 24 | Bill | bill_gensheet |
| 4 | Dylan (Ianno Jr.) | - | | 11 | Andy | Ginger | | 18 | Karl | headshot119 | | 25 | Chris | tlib |
| 5 | Jason | arbitraryname | | 12 | Nathan | y10g9 | | 19 | Andy | AndyG | | 26 | Mike | mldaureol |
| 6 | Gareth | TimTamToe | | 13 | James | pedroathome | | 20 | Tony | memorialstingray | | 27 | Alan | agilchrist |
| 7 | Peter | peterbennet | | 14 | Phil? | Philsam123 | | 21 | Ben | Sacro | | 28 | John | Meld |
Other attendees who missed the photo
| Name | Username |
| --- | --- |
| Matt | mfcooper |
| Noel | noisynoel |
| Dave | DaveHarries |
What it looked like at the meet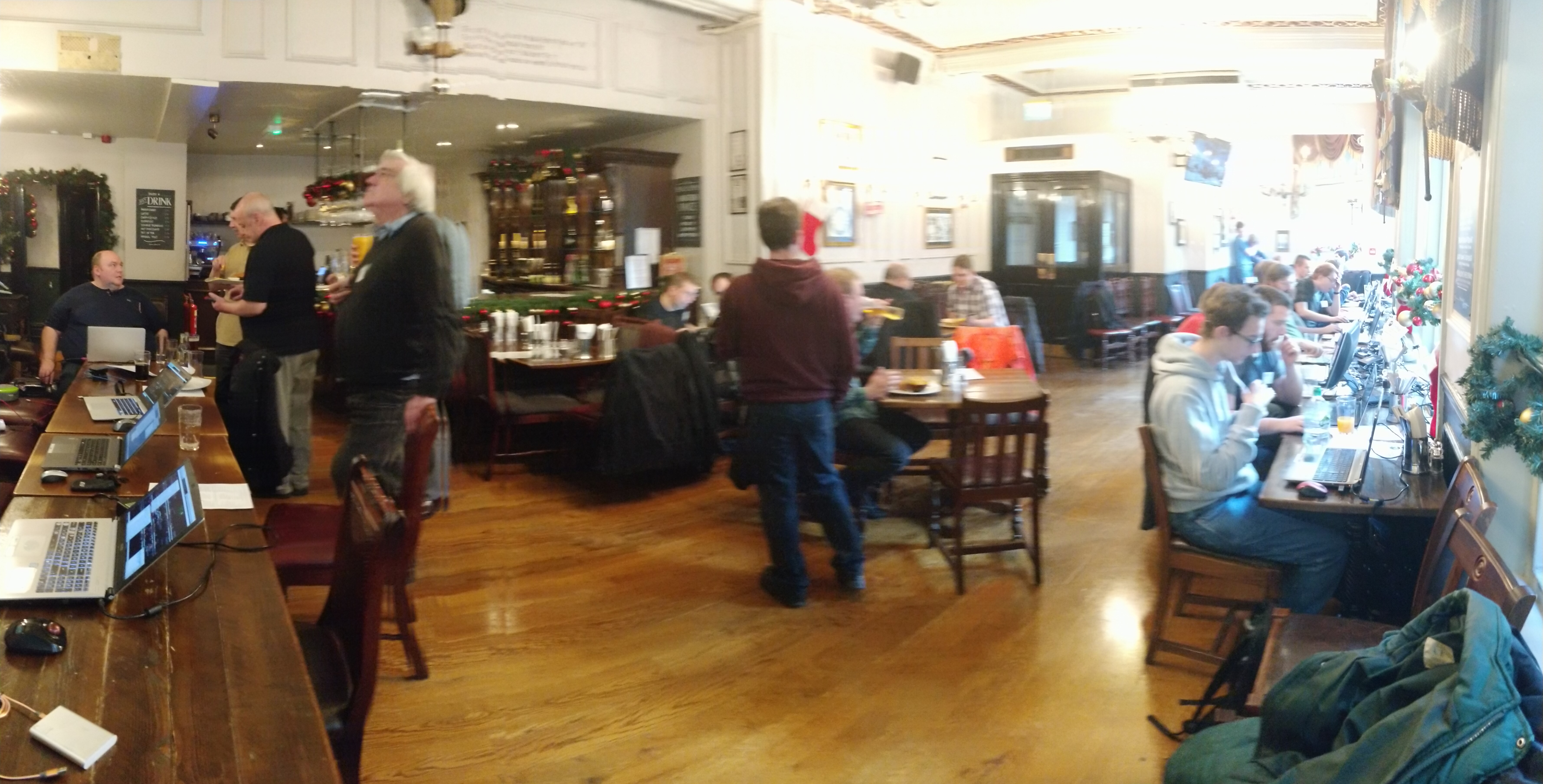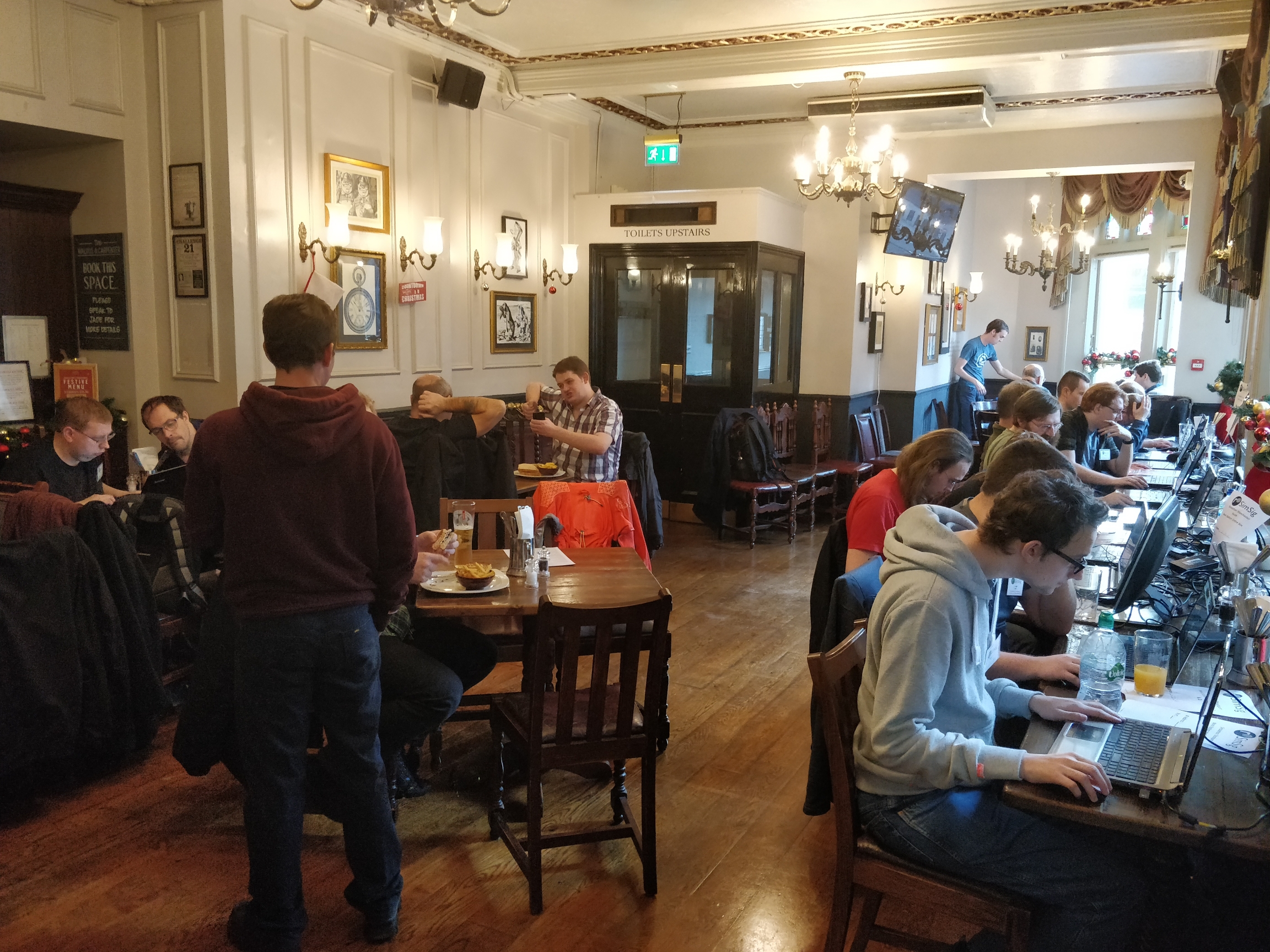 And at the curry house later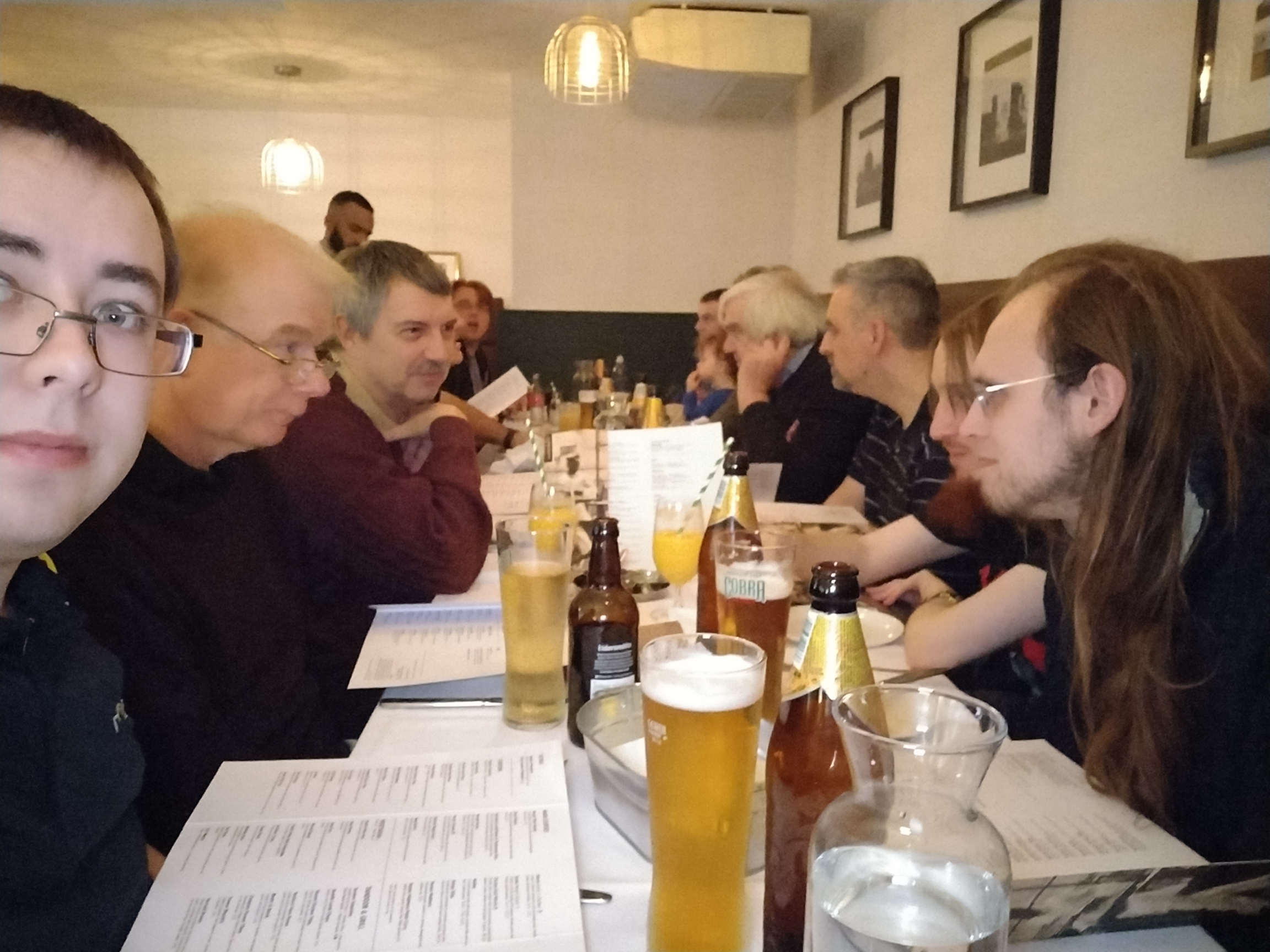 ---
Last edited by mfcooper on 24/03/2019 at 20:23