You are here:
Wiki
>
start
>
simulations
>
exeter
>
exeteroptions
---
SimSig Exeter
Options
Scenarios
There are a number of Scenarios/difficulty levels available to choose from on start-up:
Perfect No delays or disruption, ideal for those who are testing timetables, or who want a quiet life.

Beginner Normal running, no lines or platforms closed. No trackside failures but limited delays and disturbances.

Standard Normal running, no lines or platforms closed. Limited temporary speed restrictions, trackside failures, delays, and disturbances.

Exeter Platform Closed As Standard, but with a random platform closed at Exeter St. David's.

Dawlish Sea Wall As Standard but with Down line between Dawlish Warren and Teignmouth closed due to flooding.

Bad Weather As standard, but bad weather has caused more delays and slippery rails/fog will affect train's acceleration/braking.
TORR
You can select whether to run with TORR on or off. In real life, Exeter panel does not have TORR fitted, however the option to enable it has been included as an aid to players.
Simulation Era
Tiverton Jn (pre-1986): The station at Tiverton Junction is still open (see below)

Tiverton Parkway (1986): Tiverton Jn has been replaced by Tiverton Parkway. See note below.

Silk Mill Crossing closed (2006): Silk Mill level crossing has been closed replaced with a bridge.

Newcourt (2015): A new station at Newcourt, on the Exmouth branch, has opened.
Please check the date and notes accomanying the timetable you wish to play, and ensure you start the simulation in the correct era.
The station at Tiverton used to be located at Tiverton Junction until 11th May 1986, when it was closed and relocated to Tiverton Parkway the following day. Tiverton Junction still remains but there is no longer a station there. (Tiverton Parkway itself is on the site of another station, Stampford Peverell, which closed on 5th October 1964.) Launch options allow you to select the pre and post 1986 platforms.
Tiverton Junction era (station located at junction, Parkway not yet constructed):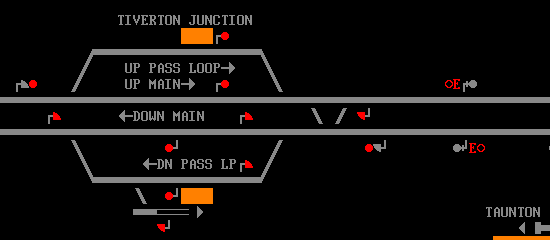 Tiverton Parkway era (station relocated to Parkway, junction still exists):

---
Last edited by GeoffM on 15/09/2016 at 03:00