You are here:
Wiki
>
start
>
simulations
>
limestreet
---

Page is locked
Liverpool Lime Street
Official Files
| Title | Version | Released |
| --- | --- | --- |
| Simulation (Donationware) | 3.1 | 10/04/2020 |
| 15/10/2009 WTT (Midnight and 0445 Start included) | 1.0 | 10/04/2020 |
| 08/04/2015 WTT (Midnight, 0445 and 1400 starts included) | 5.0 | 23/09/2020 |
Additional user-written timetables are available to download here .
Introduction
This simulation covers the 1.25 miles of route on the approach to Liverpool Lime St. The simulation represents the area as it was prior to the closure of Lime Street miniature lever frame signal box in July 2018. Pictures of the real-life box can be found here . Post closure, the area was re-controlled to Manchester ROC.
The area is also simulated, along with large parts of Merseyside, in the Edge Hill simulation.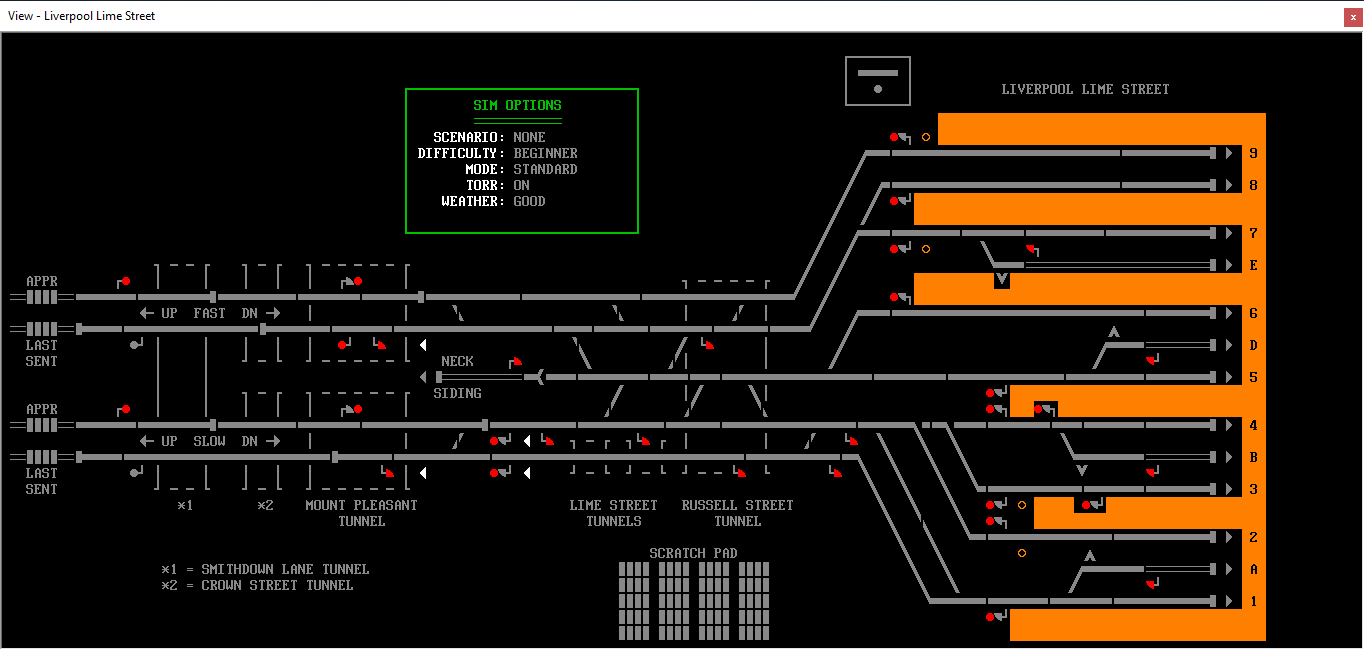 Start-Up Options
Scenarios
None
A normal day in the signal box.
Line Block
Either the Up & Down Fast lines or the Up & Down Slow lines are blocked on approach to Liverpool Lime Street. All traffic must use the other set of lines.
Platform Closure
One platform (and adjacent platforms siding, if applicable) is closed at Liverpool Lime Street.
Station Throat Closure
The middle of the station throat is blocked for engineering works. Also blocked are platforms 5 & 6, station siding D, and the Neck siding.
Other Options
Scale of Problems
Beginner – This option allows the simulation to run in easy mode, and everything should run perfectly.
Standard – A standard simulation with a small chance of the odd trackside failure and possibly some delays to the days service.
Difficult – A difficult shift, you should expect a reasonable amount of disruption, both in terms of failures and also delays.
One of Those Days - As per Standard, but with more train delays.
Gremlins at Work - When things just keep on failing.
TT Developer - No failures. Very useful for testing new timetables.
TORR (Train Operated Route Release)
When enabled, routes cancel after the passage of a train, allowing for a new route to be set. When disabled, all routes have to be manually cancelled after the passage of each train before a new route can be set. This is closer to real life, where each lever has to be replaced.
Bad Weather
When enabled, trains run with reduced braking and acceleration capabilities and the signal sighting distance is reduced.
Simulation Operation
As the signaller at Liverpool Lime Street, you have to get trains into and out of the station as on time as possible to keep the service running. The regualtion of outbound vs inbound trains is where you have to shine. If you get it wrong, you could trap something at the buffer-stops end of the platform, or you might end up having to re-platform multiple trains to cope with one tiny failure. Concentration and accurate timetable reading is the key to success.
Electrification
All lines are provided with standard 25kV AC overhead electrification.
Signalling Notes
Permissive Working is available in all platforms and sidings

Shunt Routes towards several signals.

The Neck siding is protected by

wide-to-gauge trap points.

After a route has been set from signal 1, it will clear automatically following passage of trains unless the route is cancelled.
Train descriptions will enter the approach berths approximately 3 minutes before trains enter the simulation at Edge Hill.
The platform sidings at Liverpool Lime Street are protected by derailers, rather than trap points. These are indicated on the display as a triangle.
Trains on platforms with hidden signals protecting the siding points may draw towards the country end of the platform when they are ready to start. This is a limitation of SimSig for the time being.
LS1 Signal once cleared will act as though it has an automatic working enabled, to cancel the route from the signal you must manually replace LS1 to danger.
Unusual Indications
Three platforms at Lime Street (1, 5 & 7) operate the track circuits in an unusual way. This is linked to the signalling layout in these platforms.

There is no signal for departing trains from behind the points which allow access to the station sidings. In real life, the interlocking of the miniature lever frame makes any movements from this position safe. As the signallers only have an indication for the entire track circuit over the pointwork that is linked to their diagram, they would notice nothing unusual. However, in an IECC environment, a route would normally set (in white) across the portion of a track circuit the train would actually pass over, and only this postion would occupy (in red). Without a signal on the buffer-stops side of the points, the track circuits across the points will "flood" (ie: the whole track circuit will occupy) when a train departs the station from this position.
Multiplayer & Chaining
The simulation is ideal for single player.
The simulation cannot be chained to any other simulations.
Acknowledgments
Original Simulation by: Matt Cooper
Conversion to Loader format: Karl Latham
15/10/2009 WTT by: Ben Woodward and Noel Young
Of course I must thank Geoff Mayo for creating software that has kept me amused for too many hours of my life and allowing me to try my hand at this developing lark.
Thanks go to Clive Feather for his tutoring at the London meet 2011 to help me figure out some coding.
I also thank Ben Woodward for creating a timetable and Noel Young for fixing Ben's mistakes! ;-)
Special thanks go to fellow developers Chris Lord, Howard Potter and Paul Curran for their invaluble assistance in all things code and test build related.
Dave McCormick gets a separate mention for his track circuit estimations, and Andy "Jinx" Greenland for his useful maps and diagrams.
And also for the other people who have tested Lime Street; James Nelhams, Mark Jones and James Warwick.
I thank you all so much, and without your input there wouldn't be the sim we have today.
-Matt Cooper, original developer of SimSig Liverpool Lime Street
Reference Section
Signal Number Plan
Lime Street Signal Number Plan
These are Adobe Acrobat PDF files. If you don't have Adobe Acrobat Reader installed on your computer you can get a free download of the latest version from the Adobe website . Use the built-in Find function (Ctrl+F) to locate signal numbers.
Signal Box Prefix Codes
| Code | Box |
| --- | --- |
| LE | Edge Hill* |
| LS | Liverpool Lime Street |
*Fringe box, signals not controlled in this simulation.
Platform & Siding Lengths
Platform Lengths
| Location | Platform | Length (m) |
| --- | --- | --- |
| Liverpool Lime St | 1 | 169 |
| | 2 | 161 |
| | 3 | 162 |
| | 4 | 160 |
| | 5 | 197 |
| | 6 | 250 |
| | 7 | 280 |
| | 8 | 281 |
| | 9 | 246 |
Siding Lengths
| Location | Siding Name | Length (m) |
| --- | --- | --- |
| Liverpool Lime St | A | 80 |
| | B | 80 |
| | D | 80 |
| | E | 170 |
| | Neck | 80 |
TIPLOC Codes
Splash Screens
| Name | Description |
| --- | --- |
| Splash 01 | Lime Street Box |
| Splash 02 | London end of the diagram |
| Splash 03 | Liverpool end of the diagram |
| Splash 04 | An overview of the frame |
| Splash 05 | Levers 83 - 94 |
| Splash 06 | Levers 1 - 12 |
All pictures where taken by Andrew Gardiner high resolution version can be viewed on his Flickr
Version History
---
Last edited by headshot119 on 26/02/2022 at 21:27