You are here:
Wiki
>
start
>
simulations
>
sheffieldpsb
---

Page is locked
Sheffield
Please note: this manual refers to the obsolete and unsupported executable version of Sheffield PSB. The current, supported version of Sheffield is available on the Loader, and the user manual is here .
Sim Versions
| Version | Status | Scroll/Views | Published | Comments |
| --- | --- | --- | --- | --- |
| V2.132.2.996 | Donationware | V | 31/03/10 | No longer available for download |
| V2.132.2.995 | Donationware | V | 06/02/09 | No longer available for download |
| V2.121.353.0 | Donationware | V | 23/11/07 | No longer available for download |
Introduction
Welcome to SimSig's simulation of Sheffield. The simulation includes the full area covered by Sheffield PSB, from Chesterfield to Doncaster, and also covers the fringe boxes on the Worksop line and Tinsley Yard.

=
History
Sheffield PSB was opened in 1973 and is located south of platform 1 at Sheffield station, formerly known as Sheffield Midland station.
The station itself opened in 1870 by the Midland Railway, it was the fifth city centre station to be opened and was built on a new line running from Chesterfield to Rotherham via Dore and replaced services to London from Sheffield Wicker.
The North Midland Railway route, opened in 1840, became known as the old road, also connects Chesterfield and Rotherham but via Barrow Hill and Treeton. At Beighton Junction, a spur links to the former Great Central route between Sheffield and Lincolnshire, which opened between 1846 and 1849. This line between Beighton and Sheffield also formed part of Great Central's London Marylebone to Manchester route via Woodhead.
The Great Central route used Sheffield Victoria as its station, which remained open until 1981, and was electrified west of Darnall until this time. Sheffield to Huddersfield services continued to use the route until 1983. They ran from Sheffield Midland and required a change of driving ends at Nunnery Junction.
Parallel to the Midland Railway, the Great Central also operated a line to Rotherham and Doncaster, which opened in 1838. During rationalisation in the 1960's, this closed line to passenger services and Masborough became the main railway station for Rotherham, and indeed was renamed Rotherham. However, the station was located about half a mile from the centre of the town, and passenger numbers declined. So, a new link known as Holmes Curve was built, and Rotherham Central reopened in 1987. For a brief time, both stations had services, but eventually Masborough closed in 1988. Throughout this period, the line remained heavily used for freight services to and from Tinsley Yard.
As part of the same original rationalisation, connections were built between the two lines at Aldwarke Junction, enabling trains from Doncaster and York to share the line to Sheffield.
North of Aldwarke, there used to be a station serving Swinton until 1968. In the 1980's, it became apparent that there was a need to better serve the local community and a new station opened in 1991, along with a chord linking Swinton to Mexborough. This became the main line linking Sheffield and Doncaster, and the route through Thrybergh Junction became a secondary route used mainly for freight, but of passenger standard and used for diversions. A handful of services use this route regularly to maintain driver knowledge. (At the time of research, this line was closed following summer's flood damage.)

=
Modern Traffic (2007)
Sheffield today sees a clock face timetable across all the services. To summarise, every hour has:
1 main line service to London St Pancras International via Derby, usually a HST occasionally a Meridian 222;

1 Norwich to Liverpool service, operated by a 158 or 170 unit, or even two if you're lucky;

2 cross country services, one not stopping at Chesterfield, one via Doncaster the other via Leeds, former Virgin Voyagers 220 and 221 units;

1 every two hours to Manchester calling at Hope Valley stations, increased to hourly at peaks and summer Saturdays;

1 trans-Pennine service between Manchester Airport and Cleethorpes, using the new 185's

1 service to Lincoln via Worksop and Retford;

1 service to Adwick, an intermediate station on the Doncaster - Leeds line;

1 service to Scunthorpe;

1 service to Hull, Beverley or Scarborough, usually a 158;

1 service to Leeds via Moorthorpe;

1 service calling at all stations to Leeds via Barnsley and Castleford;

1 semi-fast service to Leeds via Barnsley and Wakefield, usually a 158;

1 service to Huddersfield via Barnsley.
Local services are mainly made up of the quality pacer 142 or 144's. Classes 150, 153 and 156 are used regularly too.
All services generally use the main lines. Some early morning or late evening services between Chesterfield and Sheffield use the old road, and between Sheffield and Doncaster via Woodburn and Thrybergh.
Obviously, this is only true for current operations in 2007. Historic and future services could be quite different. For example a new Nottingham to Leeds service commenced in December 2008.
Most freight traffic operate straight through the area, the majority of which are north to south, but some services operate via the Hope Valley line to service places including Earles Sidings, Tunstead and Peak Forest. There are a handful of coal services that serve Cottam, located east of Retford. These tend to require a change of direction at Woodburn, and some also again at Westhorpe to link to the north.
The only services that terminate of note are those at a number of steel mills in the Rotherham area, although a number of services recess at Barrow Hill.

Start-Up Options
Scenarios
Normal- No Closures.

Sheffield- A random platform is closed at Sheffield.

Masborough- The main lines are closed between Holmes Junction and Masborough Junction. All trains must run via Rotheram.

Chesterfield- The Main lines are closed between Tapton Junction and Clay Cross. All trains must run via the Goods Lines.

Bradway Tunnel Blockage- Engineering work in Bradway Tunnel has closed the line between Dore Station Junction and Tapton Junction. All trains must run via Barrow Hill.
Simulation Options
Era- Choose between the Modern and 1980s track layout. Please consult the timetable you have selected for what era to run the Simulation in.

=
Difficulty
Easy- No trackside failures, however trains may be dealyed slightly.

Standard- A standard level of delays, and up to 1 failure present at a time.

Difficult- Lots of delays, and up to 2 failures present at a time.

Very Difficult- Lots of delays, and up to 3 failures at a time.

Bad Weather- Tick the box to run with bad weather. Fog and greasy rails are causing trains to accelerate slowly and brake early.

TSRs- Choose how many Temporary Speed Restrictions you want to have in the Simulation.

TORR- Tick the box to enable TORR .
=
Screen Descriptions Screen 1
Screen 1 covers the area from Clay Cross, south of Chesterfield to Dore including the Hope Valley line towards Manchester.
There are four lines between Clay Cross and Tapton Junction. The lower two lines, as shown on the screen, is designated goods only. If a passenger train uses one of these lines, you must ensure it is the only train in the section between Tapton Junction and Clay Cross. (A heavy penalty is incurred for failing to observe this.) To assist when playing Sheffield alone, there is an arrow indicator on the up line which shows red when there 1 or more trains within the section. There is internal code which stops a down train for breaching the one train rule for incoming trains.
From Tapton Junction, the goods line continues via the old road through Barrow Hill and Treeton to Rotherham. This line is rated for passenger use, so no special instructions apply, and indeed is used as a diversionary route when the direct line is not available, and occasional early morning or late evening services to maintain driver knowledge.
The down line between Tapton Junction and Bradway is mostly on a 1 in 100 slope. Because of this, it is prototypical behaviour to hold freight services for Grindleford at Tapton Junction, until they can be given a straight run up the slope and around the curve at Dore Junctions. Some of the heavier freight services may struggle on this slope otherwise. Note that in the February 2009 release, gradients are now included as part of SimSig
The overlap on signal 48 does not release. In emergencies, it may be necessary to set a route from signal 49 whilst a train is stopped at 48. In these cases, operating the junction protection release will cause signal 48's overlap to drop, provided the berth track circuit has been occupied for at least 2 minutes. This should not be used for normal operations, and a penalty is incurred if it is.
The groundframe at Chesterfield is now operational, as is the down siding. This has been programmed so that only one train can pass through under GF control. (It has been done this way to avoid to prevent a reversing train running back the wrong way if the user is distracted). If necessary, once a train has passed through you need to clear and release the GF again.
The Hope Valley line is now included as far as Chinley, and therefore attention is required to the regulation of freight trains. These should be held at Tapton or Heeley until you are sure it will not interfere with passenger traffic, you do have a passing loop at Earles Sidings, although this is often used for short term recess and may not be available. Note that the line is particularly hilly.
=
Screen 2
This area covers the area of Sheffield station as well as its immediate approaches. Included is the maintenance depot next to the south of platform 1.
On the up line there is a passenger loop used mainly to regulate traffic towards Grindleford. Note that if an express passenger is behind a stopping passenger or freight, there is no passing opportunity on the Hope Valley line and significant delays can be incurred.
From the south, the main entrance into Sheffield uses the down main line. Platforms 6, 7 and 8 can only be accessed from the down passenger line, and is also used as a passing loop by some trains. Although platform 6 can be accessed from the south, it can only be done through ground signals and so this is only used for passenger trains in emergencies. There is no restriction to platform 8 as there is a fixed red at the end if this platform, but there is no exit to the north (except using ground signals in emergencies).
At several locations around Sheffield, there are a number of invisible overlaps. If a platform is showing a white route locking arrow, there is a good chance the line beyond may also be locked for a short distance.
The normal route from the down platform line to platform 5 is via the B line. An alternative route is via the C line, use the blue via button to use this.
The normal route from the up line to platforms 4 to 6 is via the B line. An alternative route is via the A line, use the blue via button to use this.
When setting a route from a main platform signal towards signal 85 or 147, the overlap has to be free on these signals for a yellow aspect to be displayed. An alternative for shunting moves is to use the white arrow just before the signals. These do not require the overlap to be free and instead show white calling on lights.
To reverse at ground signal 88, set a route directly from a platform to the shunt spur (i.e. not via signal 87).
To reverse at ground signals 89 and 91, note that the distance between those signals and 84 and 85 is very short, you are likely to need to clear these signals.
You may be contacted by the depot supervisor requesting a "95 shunt". This is where a train is required to go to or from the fuelling road within the depot. As there is no headshunt, these trains need to come out partway into the station, and then reverse back into the depot.
Heeley UPL 548m/600yds
Screen 3
This screen covers the North Sheffield and Rotherham areas. The main line passing through is the former Midland line between Sheffield and York.
Between Mill Race Junction and Brightside Junction, are Grimesthorpe sidings, also known as Attercliffe sidings. At Brightside Junction, there is a link (in 1980's mode) towards Tinsley.
The East slow is a bi-directional passenger loop. This is often used to regulate passenger trains, especially for those which share platforms at Sheffield and arrive in the wrong order because of delays. Check the onward departure time for those that terminate at Sheffield.
At Wincobank Junction, the line branching off continues towards Barnsley, Healey Mills, Wakefield Kirkgate and Huddersfield.
At Holmes Junction, a new chord opened in the 1980's links with the former Great Central line between Tinsley and Doncaster.
At Masborough Junction, the old road rejoins the main line.
Between Masborough and Aldwarke Junction, the Midland and Great Central lines run parallel, at some places within a couple of hundred yards of each other. A legacy of the origins of these lines are that on the Midland lines, the northbound line is the down direction, but on the Great Central lines, it is the southbound line.
At Aldwarke Junction, the lines meet. In 1980's mode, the lines remain separate and there is a crossover between the two lines. In modern mode, the Great Central line joins the main line, and then the Thrybergh line immediately branches off.
Please note that the route Doncaster bound trains take here depend on the era you are playing. In 1980s mode, all Doncaster trains must take the Mexborough line. In modern mode, most will take the main line.
Located near Aldwarke Junction are also two steel mills.
There are two level crossings on this screen. Both have auto-raise, but only Brinsworth Street has auto-lower. Holmes Junction will need to be manually lowered. All crossings also have a clear button, which not surprisingly you press when the crossing is clear. In real life, this is done once the signaller has checked the CCTV monitor that nothing is trapped between the barriers.
Trains out of Rotherham new mill onto the up line will require double red protection, i.e. both S744 and S740 at danger.

=
Screen 4
This covers the most northerly part of the area controlled by Sheffield PSB.
When playing in 1980's mode, there are no junctions other than those for sidings. When playing in modern mode, the reopened Swinton will be available, and a new link between this station and Mexborough. Most trains will use this route, even those not stopping at Swinton. Some freight and the occasional passenger or ECS train will use the Thrybergh Junction route.
Note that it is a requirement that if a train is diverted from the booked route, the driver will need to be stopped for the signaller to confirm they are rated for the relevant line. This isn't simulated, but the drivers will stop and complain of wrong route if you try to divert them. To confirm the diversion, you will need to adjust the timetable from the F2 train list. (See main manual for instructions.)
There is one level crossing on this screen, Denaby which has auto-raise but not auto-lower.

=
Screen 5
This is the old road between Chesterfield and Rotherham.
Barrow Hill has a number of yards and sidings. Access to the off screen up sidings from the south requires a slot from the shunter.
At Barrow Hill and Foxlow Junction, there is a triangle to a goods line to Seymour Junction, Bolsover, Oxcroft and Shirebrook.
Beighton Junction has a link to the Worksop line which is used by diverted trains between Chesterfield and Sheffield. Westhorpe branch is a run round siding used to allow freight trains from Woodhouse to reverse and continue north and vice versa.
At Treeton are the junctions to Tinsley Yard, closed when playing in modern mode.

=
Screen 6
This screen covers an area to the east of Sheffield which is not part of the real Sheffield PSB. It incorporates the signal boxes of Woodburn Junction, Woodhouse Junction, Beighton Station and Tinsley Yard.
At Woodburn Junction is a line to the former Sheffield Victoria station and onwards towards Deepcar. This route is a single line to Deepcar and is token operated, controlled by you. Press the release button when the driver requests the token. If you need to hold a train at Deepcar, do not release the token when the driver requests. The token machine is located on the driver operated passing loop. Trains towards Deepcar will have to be held on the main lines. The token machine is located at the start of the single line.
Beware of the level crossing at Beighton, this is totally manual.
Located on this screen is Tinsley yard, a shadow of its former self. Because of limitations in SimSig, it has not been possible to show the full original layout when in 1980s mode (four lines at each end). The eastern approaches, and a direct link to Brightside, are only useable in 1980s mode.

Platform & Loop Lengths
Platform Lengths
| Location | Platform | Length (m) |
| --- | --- | --- |
| Bamford | Down | 101 |
| | Up | 103 |
| Bolton upon Dearne | All | 96 |
| Chesterfield | 1 | 212 |
| | 2 | 204 |
| Conisbrough | Down | 117 |
| | Up | 97 |
| Darnall | All | 108 |
| Dore & Totley | SGL | 100 |
| Dronfield | All | 111 |
| Edale | Down | 99 |
| | Up | 100 |
| Goldthorpe | All | 92 |
| Grindleford | Down | 78 |
| | Up | 93 |
| Hathersage | All | 56 |
| Hope | Down | 89 |
| | Up | 96 |
| Meadowhall | All | 105 |
| Mexborough | Down | 104 |
| | Up | 112 |
| Rotherham Central | All | 92 |
| Sheffield | 1a (Dn) | 132 |
| | 1a (Up) | 68 |
| | 1b (Dn) | 146 |
| | 1b (Up) | 143 |
| | 2 (Dn) | 345 |
| | 2 (Up) | 329 |
| | 2c | 58 |
| | 3 | 145 |
| | 4 | 112 |
| | 5 (Dn) | 326 |
| | 5 (Up) | 237 |
| | 6 | 351 |
| | 7 | 135 |
| | 83 (Dn) | 68 |
| | 8 | 378 |
| Swinton | All | 92 |
| Thurnscoe | All | 92 |
| Woodhouse | All | 84 |
Platform lengths for Sheffield station are shown in the below chart.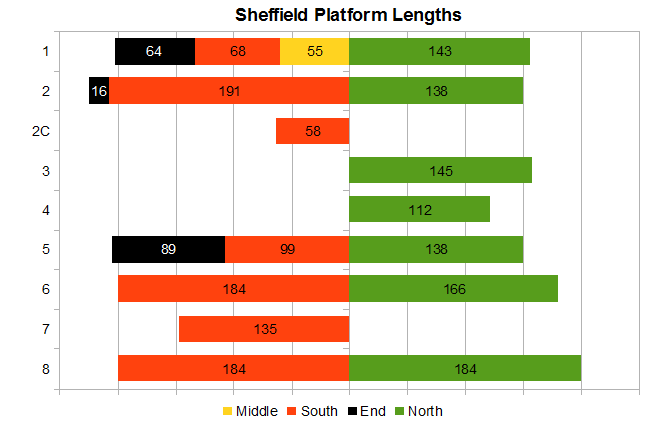 Red indicates platforms at the southern end, Green platforms to the northern end, Yellow the middle section between 112 and 116 on platform 1, and Black the end sections between the platform starter signal and the top of the ramp e.g. between 101 and the end of platform 1A. At Sheffield, these black sections will only be available to trains arriving in the Down direction.
Platform lengths are given in metres, with the gridlines at 46m intervals. This is estimated to be close to two typical DMU car-lengths (classes 15X, 170, 185, 22X). N.B. Class 14X cars will be shorter.
Platform lengths are consistent with those in the 2014 Timetable Planning Rules document.
Loop Lengths
| Location | Direction | Length (m) |
| --- | --- | --- |
| Canklow | UGL | 807 |
| Consibrough | UGL | 548 |
| Heeley | UPL | 548 |
| Kilnhurst | UGL | 637 |
The simulation data has been compiled by Kurt Sickelmore
Thanks to the original author of SimSig, Geoff Mayo for providing assistance in all areas, and for adapting the core code to make this simulation even more enjoyable.
Thanks to Clive Feather for the advice and support on the custom code programming.
Thanks to Chris Law whose extremely useful contacts gained access to the real Sheffield, and companion on research visits.
Thanks to Daan Krantz, Guy Horstmann, Chris Lord, Tony Hutchins, Darren Goble, Darren Towler and William Cook for their constant testing.
Thanks to the team at Network Rail who were very accommodating and provided a wealth of information to assist not just with the simulation, but also the timetables. Many of whom I never made a note of their names, but without their help this simulation would be lacking.
Thanks to the management at Network Rail for granting permission for the visit to Sheffield, and supporting its release.
Thanks to fellow SimSiggers at Derby for being guinea pigs.
Reference Section
Signalling Diagrams
(Version 2.121.353 does not include the Hope Valley line to Edale, V2.132.2.996 does)
Signal Box prefix codes
| Code | Box |
| --- | --- |
| BY | Barnsley* |
| D | Doncaster* |
| EE | Edale* |
| ES | Earles Sidings |
| GD | Grindleford |
| H | Hickleton* |
| KS | Kiveton* |
| SE | Seymour Junction* |
| TE | Totley Tunnel East |
| TT | Trent* |
| TY | Tinsley Yard |
| W | Woodburn Junction |
| WH | Woodhouse Junction |
*Fringe box, signals not controlled in this simulation
None-prefixed signals are controlled by Sheffield (S)
Maps

These are Adobe Acrobat PDF files. If you don't have Adobe Acrobat Reader installed on your computer you can get a free download of the latest version from

the Adobe website . When checked during March 2013, it had reached v11 and the download size was just under 50MB.

=

Known Problems

When running the 'Bad Weather' scenario, random trains entering at Chinley Junction will not exceed 2mph.
If both Chesterfield Ground Frames are operated at the same time, they can not be put back 'normal'.
---
Last edited by Steamer on 27/06/2020 at 11:38