You are here:
Wiki
>
start
>
usertrack
>
ssrun
>
func
>
f3
>
optionsars
---
Options - ARS
This tab is only displayed on simulations equipped with full ARS .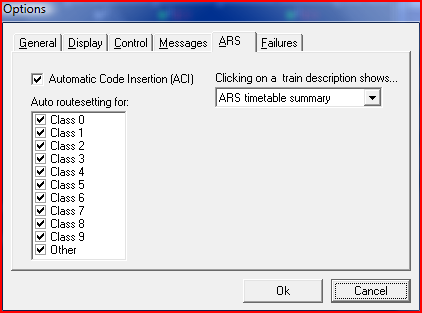 ACI
Ticked by default, this enables Automatic Code Insertion across the entire simulation. Disable if you want to change all headcodes manually.
Auto routesetting for:
It is possible to allow ARS to set routes for certain classes of train only. Trains which do not have a headcode starting with a number are categorised as 'Other' (for example, LUL trains on the Marylebone simulation)
Clicking on a train description shows:
ARS Timetable summary:A four-line message is displayed in the message box, showing the train's next three locations.

ARS Routesetting status: The train's routesetting status is displayed in the message box.

ARS Popup information: A full timetable is displayed in a popup window, in the same way as the timetable is displayed in non-ARS simulations.
See also
PREV : NEXT: Options - Failures
This page was created on the old website by Peter_Bennet
---
Last edited by GeoffM on 15/09/2016 at 03:00